The return of Dallas has been quite a ride, and this penultimate episode lived up to the hype. "Family Business" was my favorite installment to date.
I first began watching Dallas when I was about eight years old so I have a long history with the Ewings. Despite the fun of the backstabbing and conniving business deals, nothing makes me happier than when the show is all about family.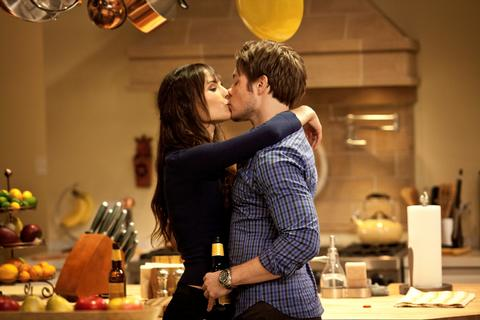 Bobby's illness brought everyone home, but not before Christopher went back to the blame game. It appeared that his truce with John Ross wasn't going to last long. Chris once again jumped to conclusions, acting on emotion instead of really listening. He was so out of hand that his father had to threaten to sit him down to get him to listen. Of course, that exchange also led to this Dallas quote…
Bobby: Where was I?
Christopher: You were threatening to kick our ass. | permalink
I suppose it was too much to ask for Chris to change his ways all at once. Perhaps this will be a gradual thing.
Bobby's brain seizure certainly shook everyone. Even though Elena was breaking a confidence when she told John Ross about Bobby's cancer, I was proud of how she did it.
Elena: He thought if you knew about his cancer, you and JR would use it against him to get Southfork. | permalink
Honest and to the point, that moment made me like Elena all the more... and John Ross who looked horrified at the thought. Mostly because I'll bet he realized how much truth there was in it. Another stellar moment was him finally hearing enough of Baum's evasions and threatening the man if he didn't produce J.R.
John Ross: I've never kicked an old man's ass but today's as good a day as any. | permalink
That Bobby insisted upon going home only proved that he was a stubborn Ewing man. As pig-headed as it sounded, I sort of agreed with his reasoning.  If I knew I might only have days left to live, I wouldn't want to spend them in a hospital, especially if I could spend them on a beautiful ranch like Southfork.

So many things came together in this episode. The best of which was Christopher, John Ross, Elena and Bobby joining equally in business. That John Ross and Christopher could see that Jock set his boys against one another but that they didn't have to repeat that family history was quite a breakthrough. Do I think their truce will hold up? Probably not, but it's nice to see them try.

Something tells me that Ewing Energies will be quite the focus of season two and add a lot of fun to an already entertaining show.

Even JR and Bobby came to a fragile peace... fragile being the only peace possible between these two. Bobby realized that he's never going to trust his brother but he'll always love him. And J.R. signed Southfork back over to Bobby. Whatever J.R.'s end game, that moment was heart warming to witness.

On the flip side, several things fell apart. Harris was blackmailing Sue Ellen and shoving alcohol in her face, proving once more what a bastard he really is. He left me wishing that Sue Ellen would take another page out of J.R.'s play book and crush him like bug.

Of course Tommy brought things with Rebecca to a head when she failed to steal Christopher's key card for him. Obviously he's a bit of a sociopath and very angry his long-term con has gone so wrong. Not a good combination. If only Rebecca had pulled the trigger when she had the chance.

Now we're headed into the finale left to wonder how many lives hang in the balance. Will Bobby survive his aneurysm? Whose blood splattered when that gun went off? Was Tommy shot? Was Rebecca? Will the unborn twins survive? 

C. Orlando is a TV Fanatic Staff Writer. Follow her on Twitter.

Tags: Dallas, Reviews