We reviewed the most recent shocking episode of Covert Affairs on Tuesday. We showed you what the showrunners had to say about the "big move" on Wednesday. Now it's time for EVEN MORE analysis!
Staff writers Carla Day and Dan Forcella are joined by Tiffany Vogt of The TV Addict in this installment of the Covert Affairs Round Table. Read their answers to the burning questions below, and then leave your answers in the comments!
-------------------------------
What was your favorite moment from the episode?
Tiffany: That ending was pretty spectacular.  Lena coming in and shooting both Simon and Annie was jaw-dropping.  Perhaps I should have suspected Lena from the get-go, but they surprised me.  For those of us who watched the first season of "24," it was just perfect. 
Carla: This was my favorite moment not because of what happened, but because it was a shock and showed that Covert Affairs is upping their storytelling. Lena coming to Annie's and shooting Simon and Annie moved the show from a feel good spy show to an intense thriller.
Dan: Is there another answer? That Lena betrayal was amazingly good.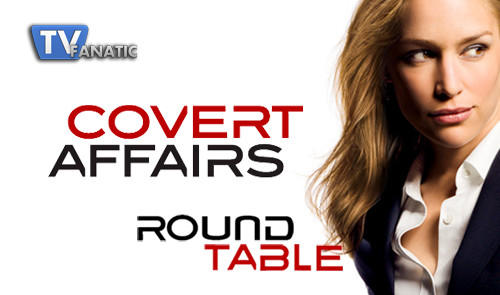 What could Annie have handled better in her Simon situation?

Tiffany: Her biggest mistake was actually falling for Simon, though after watching their romance play out this season, it is easy to understand why she did.  He risked everything for her -- and that is guaranteed to win any girl's heart.

Carla: Not gotten into the shower with him in the premiere. That said, Annie's personal journey has made her a more compelling character this season.

Dan: She shouldn't have thought so long and hard about whether or not to run away with him. They should have just taken off from the jump, and they never would have been shot up by Lena.

More tense: the meet at the mall? Or Annie deciding on Simon's proposal?

Tiffany: While the meet at the mall was high exposure and risky, I felt more torn up watching Annie trying to make up her mind on whether to accept Simon's offer to run away with him.  Love over duty is a tough decision and given how difficult it has been for Annie to find someone to love her just the way she is, Simon's offer was incredibly tempting.  We felt the agony of her decision.  Nicely done.

Carla: Definitely Annie deciding whether she would run off with Simon. Piper Perabo was amazing in that scene. Annie's agony was difficult to watch and showed how deep the relationship had become.

Dan: I'll agree with you two that the decision was much more heart-wrenching, but to be difficult I will say the mall scene was more tense.  I was expecting bad things to happen even though they didn't.

What do you think Lena's motivation was?

Tiffany: Lena is one power-hungry bitch.  She's not a traitor at heart, everything is just a game to her.  It's just horrifying that she saw Annie as a tool to be used and then disposed of so coldly during Lena's quest for absolute power.

Carla: I read an interview with the creators, so I know the answer to this question. No spoilers from me.

Dan: She was probably motivated by the fact that her turn as a traitor ended in death back when she went as Nina Myers.  This time she REALLY wanted to make it work!

Give this season of Covert Affairs a grade thus far.

Tiffany: I'd give Covert Affairs a solid "A" for this season.  They took big risks and were willing to follow through on them.  It has been a painful season watching Jai blown up, Auggie having his heart ripped out (figuratively), and Annie falling in love with the wrong guy.  But it made it feel more real and like the stakes were higher.  It made us invest more in their lives and the ramifications of their choices. 

Carla: A-

Dan: A for effort but B+ for execution.  The ideas have been great, and the plotting awesome, but I don't think everything has been as awesome along the way as I expected it to be after the premiere.

What has been your favorite episode of the summer?

Tiffany: Auggie-centric episodes are always the best. I loved "The Last Thing You Should Do."  It put Auggie in mortal danger and allowed Chris Gorham to shine.  Loved that episode!

Carla: This was by far the best episode, though the decision to have longer arcs this season has made most episodes heart-stopping at one moment or another. The show went from a sweet spy show to a spy thriller this season and while remaining true to the characters.

Dan: This one.

Dan Forcella is a TV Fanatic Staff Writer. Follow him on Twitter.

Tags: Covert Affairs, Round Tables