"La O Na Makuahine:" Mother's Day
Hawaii Five-0 Season 3 kicked off with the Chin-Ho, Kono and Malia-based cliffhanger we have been biting our nails over all summer. While my guess from the season finale of how Kono could be saved was really close (Adam saved her after Chin-Ho called him), my hope that Malia opening her eyes meant that she would survive didn't fair as well. 
Can we hope that Chin-Ho won't go down a horribly dark path over Malia's death because he was able to catch Frank Delano and shoot him in the face with a shotgun? I'm worried that we are going to have to deal with "Evil Chin-Ho" now for several episodes, which would drag down the overall feel of the show.
The premiere also gave us a complete answer to the questions that were asked most often during the show's sophomore season. To wit: What is Shelburne? It was Doris McGarrett's code name when she was a spy before Steve was born. 
It was even better to receive the answer directly from Doris McGarrett herself as she explained why she disappeared for 20 years to Steve. I'm not surprised that Steve had some anger about his mom faking her own death. I was very glad that he got past it, though, towards the end of the episode when he called her "mom" instead of "Doris."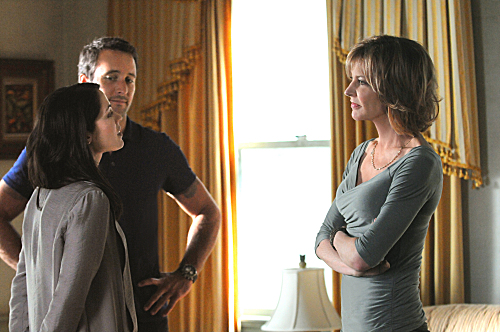 In addition to Christine Lahti coming on board as Mrs. McGarrett, Michelle Borth returned as Catherine Rawlins. She's now a series regular. While they didn't explain why she is suddenly island-bound in the Navy, I enjoyed watching her and Doris together too much to really complain about it. 

Speaking of Doris and Catherine, I'm very curious why Doris didn't shoot Wo Fat and, more importantly, why Wo Fat spent years trying to find her and didn't even raise his pistol. I'm sensing that any relief I have over finding out who Shelburne was is going to quickly be replaced with questions about Wo Fat and Doris' interaction and relationship. 

My only complaint about the opener was the way the writers decided to have Wo Fat escape. I just don't get why it had to involve a helicopter picking up an armored car with a giant skill-crane style claw. Had they cut to a shot of the three-eyed alien from Toy Story pointing and saying Oooooh, The Claw!! it would not have surprised me... and might have made it better. 

I will say (claw-copter aside) that the rest of the action from Peter Lenkov's story was great. I cheered out loud when Kono jumped straight up as the guy tried to run her down and then shot him through the windshield while standing on the hood.

In conclusion, this week's premiere was excellent and the addition of Lahti as Doris made for some fun Hawaii Five-O Quotes. I'm excited to see where Lenov decides to take her and Catherine in relation to the core team. What did you think of the premiere? Do you like the addition of Doris McGarrett?

Jim G. is a TV Fanatic Staff Writer. Follow him on Twitter.

Tags: Hawaii Five-0, Reviews