Modern Family Review: The Best Birthday Present
by Leigh Raines at .
The Emmy-winning comedy Modern Family is back and it picked up right where we left off last spring: Gloria is pregnant!
She spends most of "Bringing Up Baby" trying to figure out how to break the news to Jay.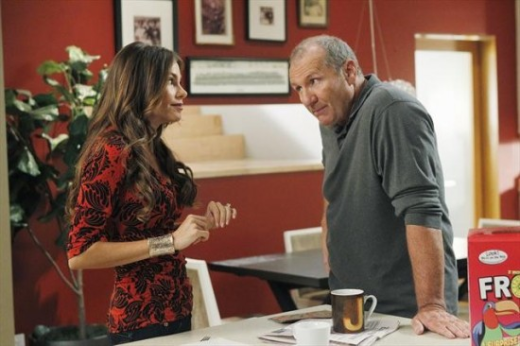 Gloria is worried Jay will react badly. After all, he just said that having a baby at an older age is difficult, the rest of the family has made her nervous and let's face it... Jay's a grump! A few flashbacks of Jay telling Claire she looked old and Cam his food looked like vomit were par for the course and admittedly hilarious.

Jay had a new reason to be grumpy this time, though: his milestone 65th birthday. Doesn't everyone fear growing old? Phil's kidnapping gone awry didn't help pep his mood much either. Seriously, Phil Dunphy orchestrating a kidnapping? Bound to be a disaster.

However, the second he giggled at Manny's lame joke and cracked that goofy grin, I realized how much I've missed the Dunphy/Pritchett clan these past few months. Between Manny's overly adult mannerisms and Haley and Claire's constant bickering, I loved catching up with everyone.

Of course Manny is self potty trained! Would you ever expect anything less? I'm surprised Haley didn't try to hide her hangover. Usually she's busy trying to sneak around. I always enjoy Claire reminiscing on her badass teenage days. Great prank with the disgusting "hangover" drink. I don't believe in any of those, by the way: it's Advil, water and greasy food all the way. 

There was one dark spot in this revered comedy and that was Cam and Mitchell's heartbreak about the adoption not going through. It didn't help when Lily bounded into the living room wondering where her baby brother was. Also, how much paperwork is it to adopt a cat? That was the icing on the cake. The humping stuffed animals could barely lighten that moment. 

However, the redeeming part of the premiere was Jay's reaction to Gloria's pregnancy. On the fishing boat he got a glimpse of what life might be like going forward. Jay doesn't want vegetable gardens or to make his own pickles. He loves Gloria and it was the best thing he could've heard. Skip a few months later and he was still just as happy as he was when he found out...and obviously Gloria looked amazing and not the slightest bit fat. 

Did you all enjoy the Modern Family season premiere? What'd you think of Phil's beard? Are you excited for Jay and Gloria's baby? Hit the comments and browse through our updated Modern Family quotes section now!

Leigh Raines is a TV Fanatic Staff Writer. Follow her on Twitter.

Tags: Modern Family, Reviews
From Around the Web