Modern Family Review: A Toned Down Halloween
by Leigh Raines at .
Not every holiday and not every Modern Family can be a slam dunk. "Open House of Horrors" wasn't the best Dunphy/Pritchett holiday, but it still managed to get in a few laughs.
Besides, anytime you prevent Claire Dunphy with a challenge, you're going to find yourself entertained.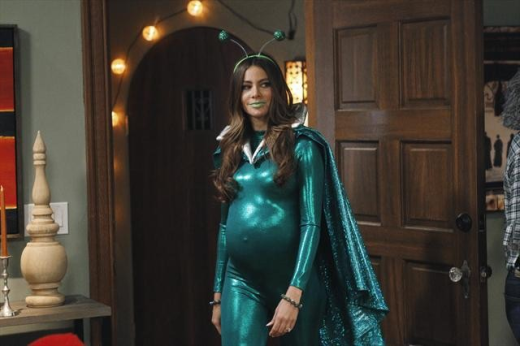 Check out that picture. Is Gloria not the hottest pregnant alien you've ever seen?

I'm sure in real life her temper would be somewhat frightening and irritating, but I thought she was great scaring away those obnoxious teenagers who called her old. You do NOT call a woman old! Ever! They deserved to get their candy jacked. Little does she know that she ended up egging her own son later on, but, hey that's what you get for hanging out with the cool troublemakers.

I loved when Manny was debating what to do with Luke as a devil on one shoulder and his friend dressed as a baseball player for the Angels on the other. It just might inspire my own costume this year...

Manny can hang with the cool kids or the dorky kids, but no matter what he is really one of a kind. I doubt who he hangs with is going to influence his personality in any way. Luke was also right when the Angel friend said that "it wasn't even the girls they liked." To a middle schooler with raging hormones, they're all the right girls.

Speaking of standard adolescent behavior, Lily's princess obsession is not that unusual for a toddler. I know she was particularly obsessed because of the lie that Mitchell told her, but I feel like most people wouldn't pick up on it. My three-year-old nephew wears rotating Superman outfits. Kids are just kids. I'm still glad that Cam and Mitchell told her the truth. It also gave Cam a chance to stop flashing his guests.

In a move that was completely unsurprising, Claire got a petition claiming she had to tone down her Halloween decorations because they were too scary. Was anyone surprised? This is Claire Dunphy, she goes full throttle on all projects. The second Phil told her she wasn't scary you knew what was coming. It still panned out well in my opinion. Seeing Claire in that house would've scared the crap out of me. My favorite part was when Phil got the phone call.

Wait, so you're telling me that the call isn't coming from inside the house? | permalink

Nothing like a good scary movie reference! What did you think of the Modern Family Halloween? Is having your mom carry your Quidditch stick really more of a Hufflepuff thing to do? Has Jay totally lost his edge?

Leigh Raines is a TV Fanatic Staff Writer. Follow her on Twitter.

Tags: Modern Family, Reviews
From Around the Web