An identity was revealed and a true love lost forever on last Sunday's episode of Once Upon a Time.
What did you think of "The Doctor?" In this edition of the TV Fanatic Round Table, Jim Garner, Nick McHatton and Christine Orlando break down the installment, from its best scenes to ideal love interests for Emma...
----------------------------------------
What was your favorite scene from the episode?
Jim: I loved the final scene with Victor and Igor in his realm, the way everything was black and white except the heart that was from fairy tale realm.
Nick: Emma picking up that Hook was lying right away.
Christine: Henry and Charming at the stable was very sweet and normal. So unlike much of Storybrooke that it stood out for me.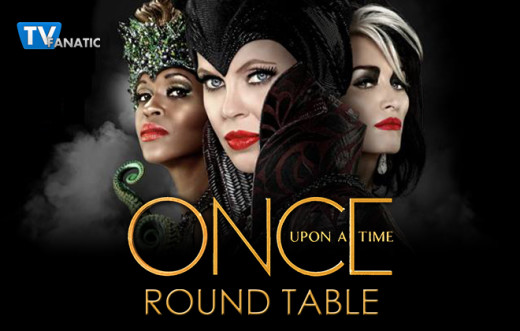 Who would you pick as a love interest for Emma?
Jim: I though Pinocchio was already her love interest. Oh wait, that's right, he got "board" with her at the end (get it?). If I had to pick from current cast of characters, I expect she's going fall for Hook, they both dislike Rumple and she's always had trouble with the bad boys.

Nick: Tough question because Emma has chemistry with a lot of different people. I really loved her with Graham, but since he's gone I would say I liked her with August.

Christine: I'm not sure. I liked Graham but he was kind of Regina's sloppy seconds and he's dead. I was never a big fan of August/Pinocchio and Hook may be to much of a bad boy. Can I wait until Baelfire comes to town to answer?

Who would you pick as a love interest for Emma?
Jim: I though Pinocchio was already her love interest. Oh wait, that's right, he got "board" with her at the end (get it?). If I had to pick from current cast of characters, I expect she's going fall for Hook, they both dislike Rumple and she's always had trouble with the bad boys.

Nick: Tough question because Emma has chemistry with a lot of different people. I really loved her with Graham, but since he's gone I would say I liked her with August.

Christine: I'm not sure. I liked Graham but he was kind of Regina's sloppy seconds and he's dead. I was never a big fan of August/Pinocchio and Hook may be to much of a bad boy. Can I wait until Baelfire comes to town to answer?

Dr. Frankenstein as a part of the fairy tale world. Did it work for you or are they two different realms?
Jim: Both, they were two different realms AND it worked. Having Jefferson bring him from "his realm" was a perfect way to bridge the two genre's together. That said, I hope they don't continue to do it, as it could get over used quickly. The moment Wile E. Coyote shows up, I'm done.

Nick: Somewhat. I like his character and the effect he had on Regina, albeit indirectly, but aside from that he isn't very interesting to the story at the moment.

Christine: I was never a big fan of horror but I see how it could work here. Still, I could have done without it.

What surprised you the most in this episode?
Jim: Regina disintegrating her former finance. I totally expected her to just take his heart out, but she didn't. She waved her hand and he vanished completely, talk about yikes!

Nick: Seeing what made Regina finally go towards her dark ways.

Christine: That Rumple, Whale and Jefferson played a young Regina in order to turn her. That was seriously cold.

If you had to choose one true villain on this show, who would it be?
Jim: The show is doing a great job of giving layers to all the regular bad guys: Regina, Rumple, Hook. Currently the only one we know to be completely evil and beyond redemption is Cora, so she gets my vote.

Nick: As Jim said, the rest of the villains - Regina, Rump, and Hook - all have layers, and all of them were at one point good. Cora, it seems, has never had that gray area.

Christine: I'm with Jim. Maybe we just don't know enough about her back story, but Cora is the most evil in my book.

Tags: Once Upon a Time, Round Tables