They can't all be touchdowns, I suppose. Though "The Freeze Out" had good hustle, it was so weighed down by its weak premises that not even a cameo by Timothy Olyphant could bring it up to snuff.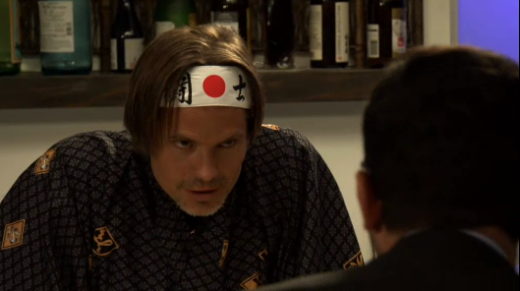 The League is at its best when it is digging comedy gold out of the totally mundane (the time that Jenny was obsessed with her business's bus shelter ad, for example) or the totally insane (the time that Taco stole a monkey, thought that it died, and then tried to communicate with its ghost).

But this episode's plot lines - Ruxin antagonizes a white sushi chef who is obsessed with Japanese culture! Kevin is intimidated by Jenny's sexual past and decides that they need to break her personal sexual record! - fell into a disappointing no-man's land of self-conscious kookiness.

I was let down to see that most of this week's episode boiled down to "This sushi chef is a young white guy! But he talks like an old Japanese guy! Also, sushi is weird sometimes!" jokes. Olyphant was totally dreamy, of course, but his sparring with Ruxin wasn't particularly funny, and he wasn't given much to do as the white sushi chef in question (except be totally dreamy, of course).

One of the episode's high points was this season's first appearance by "el cunado" himself, Rafi. But even that event felt a little dulled down to me. Sure, there were some good bits about Rafi taking the paintball game way too seriously, but where was the guy who listens to audio recordings of slaughterhouses to get psyched?

Where was the guy who rolls with Dirty Randy? Where was the guy who gets inappropriate boners...okay, I guess that guy was actually still there. But Rafi has evolved into such an extreme character to see him simply eat animal feces in an attempt to win a paintball game seemed a bit ho-hum (note: that is not a sentence that I ever dreamed I'd write, but TV writing is a career that is full of surprises!).

"The Freeze Out" wasn't all bad, for sure: the paintball sequences were the episode's best, and Taco's "paint knife" got funnier every time he whipped it out. I was excited to see the failed sci-fi film Gattaca become Rafi's battle cry - it was a joke clever enough to sit beside some of the funniest The League quotes of this season (even if The Simpsons kind of did that joke first... in 2001).

But overall, this episode showed The League in neutral, still getting laughs, but not quite firing on all cylinders.

Am I wrong? Did you love it? Did you hate it? Do you want to see the return of Dirty Randy?

Tags: Reviews, The League
Want more The League?
Sign up for our daily newsletter and receive the latest tv news delivered to your inbox for free!
From Around the Web
More From TV Fanatic
The road to healing and closure is a long one. Some of our agents are on it, others are struggling. Check out our Graceland review of "Magic Number" now.
On tonight's The Bridge, Sonya and Marco deal with the aftermath of saving Eva. With their lives in danger, how will they protect her?
Jeff and Jessica try to fight off the SEC, while Mike struggles to make good on an investment, causing more rifts as he does it. Can Pearson Specter survive the onslaught? Read our Suits review of "Leveraged" now.
On the Extant series premiere, astronaut Molly returns from a 13-month trip to space with a condition that seems impossible. Read the review for details!
---