Burn Notice is back.
The USA Network smash returned last Thursday with two hours of suspense-filled spy action, as Michael learned some disturbing news about his mentor.
Gather around the following edition of the TV Fanatic Round Table now as staffers Jim Garner, Christine Orlando and Miranda Wicker breakdown the latest happenings along with Steven of Burn Notice Fanatic...
-------------------------------------------
What was your favorite scene from "Desperate Measures" and/or "Means & Ends?"
Steven: Michael breaking into the meeting between Card and Tyler. Looks like Michael is the new undead spy. Sorry, Larry.
Christine: Madeleine confronting Tyler about why he killed Nate. Madeleine's strength, anger and grief are just overwhelming and Sharon Gless really amazed me in that scene.
Miranda: These were really heavy episodes, so Sam teaching Amari how to plant a bug was a little bit of breathing room.
Jim: I agree with Christine. I watched the scene with Madeline and Tyler twice and the second time I noticed that Madeline had brought tears to Tyler's eyes at the end. Powerful stuff!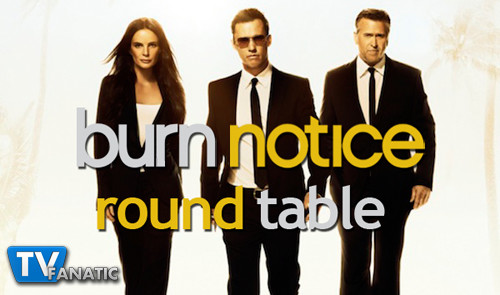 Share your thoughts on Tyler's change from assassin to sidekick.
Steven: I think it occurred to Tyler that Card set everyone up from the start. Michael was surely not the threat to National Security that Card made Tyler believe.

Christine: Because I've been a fan of Kenny Johnson's going all the way back to Pensacola Wings of Gold, anything that keeps him around makes me happy.

Miranda: I kind of saw it coming. It wasn't likely that he'd flip the drug lord and then leave Michael behind. Spies fly together, right?

Jim: I hated Tyler at first, but now I hope we get to learn more about him. Maybe a spin-off? Burn Notice: Shades of Gray.

Were you surprised that Det. Garza did the right then when pushed to his breaking point?
Steven: Garza was hilarious stepping out of the vehicle with his police uniform on all of a sudden. I could tell then he wasn't up for that corruption.

Christine: Absolutely. I didn't see it coming but it was a great twist and made him a much more complicated and interesting character than just a dirty cop.

Miranda: Not surprised, no. I want to believe that people don't suck. Thanks, Det. Garza.

Jim: I wish I could be as optimistic as Miranda, but I'm in the same boat with Christine. I was totally surprised.

Is Tyler really dead or was it just a flesh wound?
Steven: I would've thought it was a flesh wound, but you would see some movement afterwards. Tyler didn't move a muscle after that shot.

Christine: Like I said, I'm hoping we see more of Tyler this season but that looked like a pretty serious gunshot wound. Maybe he was wearing a vest but it didn't look like it.

Miranda: I want to say really dead so that there's vengeance for Nate's murder, but my gut says it's only a flesh wound.

Jim: I'm really hoping its non-vital shot and he's just laying there in shock.

Mike final gun shot: was it justice or revenge?
Steven: I'd say a bit of both. I think Card deserved it 100%.

Christine: Both, but when he had the nerve to call Michael son I knew it was over. He deserved the shot to the head.

Miranda: Both. And it brings us to where we're finally seeing Michael act without really thinking things all the way through, which means this season is going to be interesting.

Jim: It's 100% for the table, we all agree it was both. Of course we all pretty much agree he deserved it too.

Tags: Burn Notice, Round Tables