This episode of Elementary was one of my favorites of the season. The theme for this week's investigation was "The Angel of Death" and he was man who was mercy killing patients that were a sure fit to die a slow and painful death.
Last week, we focused on the growth of Sherlock and here loved the installment because of Watson's growth. We have known that Joan had completely changed her life because she had lost a patient and tonight we saw her in her "old element." It was nice to see Watson as a doctor, wasn't it?
First, let me talk about the case. Since this is the first review I'm doing for this show; I need to tell you that I love Johnny Lee Miller as Sherlock. The way Johnny delivers his lines and the attitude he puts with it is just how Sherlock should be portrayed. "Lesser Evils" proved just that.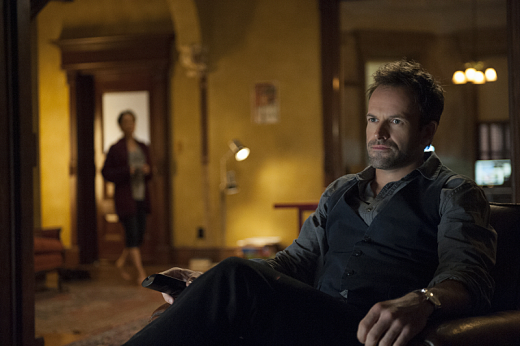 I always wait for the last 10 minutes of the episode where we get to sit down and listen to Holmes explain how he figured out the truth and the steps he took to get there. It's so enjoyable as a viewer to watch the culprit realize that he/she has been caught. I will admit that I knew the janitor was going to be the killer or would at least play a major role in the case; they gave him too much to do in the beginning of the episode to be insignificant. 

"The Angel of Death" has to be my favorite case they've done yet. I've been waiting for an investigation to put Watson back in the hospital and this was perfect opportunity. The idea of a merciful killer versus the brutal murders of the past made the episode feel a bit lighter. It felt like a nice break, but it had me thinking: where's the twist? When is the twist coming? Then it finally did.

When the janitor confessed to the murders and utterly was convinced he did not kill anyone who wasn't already dying, I knew someone set up a killing. Honestly, I did not think that Dr. Baldwin was going to be the one responsible mainly because he was such a jerk when he was first questioned by Holmes, I figured that he was going to keep living his life being a terrible person. I was pleased to find out it was him indeed.

Then there was the secondary storyline of Joan and her friend Dr. Carrie Dwyer. We met Carrie and she wasn't on the screen for five minutes before Holmes came in and explained their past, which was such a pleasure to see; Sherlock and his all-knowing mind doing his usual over sharing. Anyway, when Carrie let Joan sit in on one of her patients, a young girl with a torn ACL, I was hoping it was going to be where we'd get to see Joan in her natural element - and we sure did. 

I adore Joan as a doctor and watching her concern for the patient was wonderful. When Carrie wouldn't listen to her I thought, "she's going to kill this patient because she's too stubborn to listen to Watson." Joan has to be right, she is around Holmes too much to not be. When Carrie came to their door I assumed she lost the patient. Thank goodness I was wrong and Joan was actually correct.

Forging papers so that the patient would get the right test, brilliant Watson! This reveal was one of my favorites in the episode. 

Then Carrie said, "you're a great friend Joan, but you're a better doctor." I felt that burn through the TV. The way Watson reacted to her comment affirmed what I have to come to believe: Joan had not fully accepted the fact that she let go of her career as a physician. In the last scene - when she deleted all of the photos from her iPad -  it was a metaphor that she was letting go of her past and willing to completely move on. 

Does this mean we'll see Joan eventually go back into a medical career? I think not. At least not for awhile. She's good where she's at with Holmes.

Overall, Miller and Lucy Liu make a great Holmes and Watson. The portrayal of these two characters is unique and it's what makes Elementary a must-see show. 

Tags: Elementary, Reviews