The Office Review: Impish or Admirable?
by Dan Forcella at .
From Season Two's "Christmas Party" to Season Seven's "Classy Christmas," The Office has a rich history of great holiday episodes.  "Dwight Christmas" was a worthy extension of that tradition.
It all begins and ends with the performance of the eponymous salesman who finally got to have Christmas done his way at Dunder-Mifflin.  Rainn Wilson, and his ability to go the extra mile in Dwight's portrayal of Belsnickel, brought the half hour to a whole other level.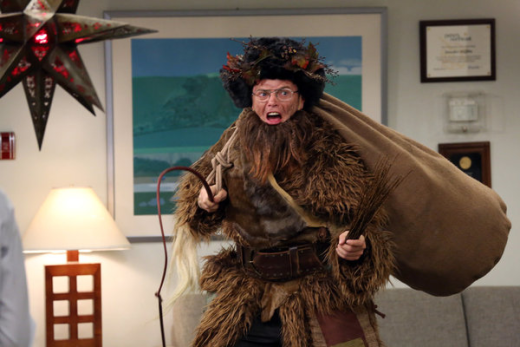 Seeing the smile on Dwight's face when Jim returned, and the subsequent giant man hug, was also a huge highlight.  With Michael Scott no longer in our lives on a week-to-week basis, the relationship between Jim and Dwight has become the heart of The Office, and that heart was beating at an all-star level during "Dwight Christmas."

What made this half hour stand out from the pack of decent installments this season was that nearly everyone had their moment to shine, and not a single character became infuriating.  The usual culprits for the latter are Andy and Jim, so with one away on a boat and the other reveling in the joy of Dwight's lunacy, we were seemingly spared.

Kevin was on fire!  From his rant about how cakes keep getting smaller and smaller to how upset he got when realizing the weird food he loved was called something different than what he thought, and everything in between, the accountant brought the hilarity.

There was also Creed and his Tapas Swiss Miss, Oscar agreeing with everything Angela said, New Jim reluctantly regurgitating all of Die Hard - a Michael Scott favorite, and Darryl getting hammered and pulling off one of the best table falls I've ever seen.

With a number of highlights and very few lowlights, "Dwight Christmas" was definitely one of the best episodes of this final season.  What did you think?  Was it one of your favorites?  Or did it not live up to The Office's Christmas glory?

Dan Forcella is a TV Fanatic Staff Writer. Follow him on Twitter.

Tags: The Office, Reviews
From Around the Web