With a healthy dose of anesthesia after Annie took a bullet for Liam, she discovered that, hey, "We're Not in Kansas Anymore"!
Well, really, she went all George Bailey in It's a Wonderful Life, dreaming about what life would've been like for her friends if she had never moved to Beverly Hills.
Turns out if Annie never moved, things would have been kinda hilarious and just as messed up! Plus, we got to see two former cast members from The Secret Circle instead of just one!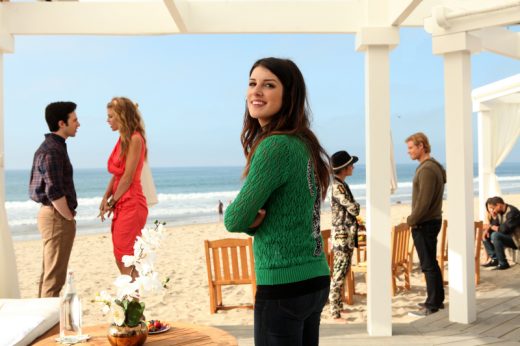 I thought if I never moved here, I'd never be able to screw up any of your lives. | permalink

Annie, you saved Liam from getting shot. News flash! Seriously, that girl obviously went through a lot of trauma in the ER to not recognize that simple fact. However, I was glad to take this entertaining journey anyway.

The first thing I want to discuss about Annie's alternate reality is Navid and Dixon's clothes. I...just...can't. There simply aren't enough words. Navid was wearing an actual crew neck sweatshirt with a decal of a chain and Dixon had a grill in his mouth. 

I know the alternate Naomi wasn't a bitch, just a gold digger, but she at least had some fashion sense. I guess she wasn't close enough to tell either of the boys that they looked like tools. Actually, all of the boys looked like tools. Liam just walked out of a Brooks Brothers ad in a pair of Khakis my dad probably owns and Teddy's closeted stress was obviously causing him to flat-iron his hair. 

Could you imagine if Naomi really was Teddy's beard? She's probably be great at it for a few years until her horny ass got caught by the tabloids. And of course, by the tabloids, I mean alternate Silver. She was a dark, dark version of her former self. I almost completely forgot about Silver's Perez Hilton ways from 90210 Season 1.

I'm so glad that Annie had a whacked out dream under anesthesia to make Silver realize that forging Teddy's signature was a totally bad move. She probably could've gotten away with it until the kid came out with a shock of blonde hair and grew up looking exactly like Teddy!

All joking aside, I really am happy that Annie's dream had an effect on Silver. I'm also glad Annie was able to knock some sense into her brother. Dixon was treating Adrianna like complete crap. Ade warned Ashley thinking she was Liam's legitimate bodyguard. How did she know that Ashley was going to end up more dangerous than Vanessa in the end? There was no way for her to know that. Good thing Dixon apologized in the end. Even Navid knew Dixon needed to chill.

So if all the people in the alternative dream headed towards their destiny anyway, does that mean Naomi and Max could work it out? Same with Dixon and Megan? Liam and Annie?

Max lied about Iceland and now Naomi knows. Marriage doesn't mean just picking up and hiding out at your parents' house because you're fighting with your wife. Come on, Max. He's been pissing me off for a little while now. I said just last week how I think Naomi fights really hard for her marriage. 

Next week things look like they're going to get really heated. This was a fun little joyride to the land that could have been, a cliched but still entertaining standby on a lot of television shows. What did you think of alternative 90210? Hit the comments!

Leigh Raines is a TV Fanatic Staff Writer. Follow her on Twitter.

Tags: 90210, Reviews