Amazing Race 22 Cast: Firefighters, Cancer Survivors and More!
by Matt Richenthal at .
The Amazing Race kicks off its 22nd season on February 11, with 22 new players comprising 11 new teams, all competing for a $1 million grand prize.
Among the cast members pictured and described below: two cancer survivors; a set of twins; and two relatives of screen legend John Wayne. Ready to meet the tandems?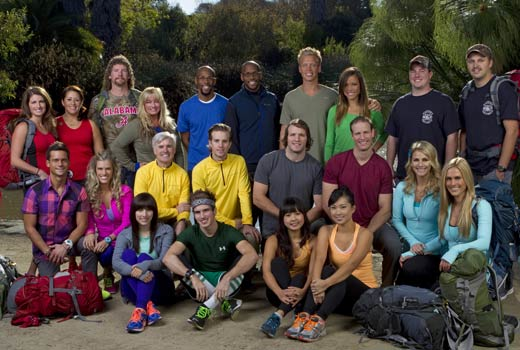 Name: Idries Abdur-Rahman
Age: 36
Hometown: Chicago, Ill.
Current occupation: OB/GYN Physician
Name: Jamil Abdur-Rahman
Age: 36
Hometown: Chicago, Ill.
Current occupation: OB/GYN Physician
Connection: Twin Doctors

Name: Max Bichler
Age: 30
Hometown: Buffalo, N.Y.
Current occupation: Cigar Sales
Name: Katie Bichler
Age: 24
Hometown: Buffalo, N.Y.
Current occupation: Pharmacist
Connection: Newlyweds

Name: Mona Egender
Age: 33
Hometown: Castle Pines, Colo.
Current occupation: Captioner/Roller Derby Player
Name: Beth Bandimere
Age: 36
Hometown: Arvada, Colo.
Current occupation: Tech Support/Roller Derby Player
Connection: Roller Derby Moms

Name: Bates Battaglia
Age: 36
Hometown: Raleigh, N.C.
Current occupation: Former Professional Hockey Player (Played for the NHL's Carolina Hurricanes, Colorado Avalanche, Washington Capitals and Toronto Maple Leafs)
Name: Anthony Battaglia
Age: 33
Hometown: Raleigh, N.C.
Current occupation: Professional Hockey Player (Currently plays for the Huntsville Havoc)
Connection: Hockey Brothers

Name: Chuck McCall
Age: 46
Hometown: Daphne, Ala.
Current occupation: Retail Manager/Taxidermist
Name: Wynona McCall
Age:  49
Hometown: Daphne, Ala.
Current occupation: Cosmetologist/Hairstylist
Connection: Married

Name: David O'Leary
Age: 58
Hometown: Salt Lake City
Current occupation: Investment Properties
Name: Connor O'Leary
Age: 21
Hometown:  Salt Lake City
Current occupation: Professional Cyclist
Connection: Father/Son (Both Cancer Survivors)

Name: Caroline Cutbirth
Age: 29
Hometown: Austin, Texas
Current occupation: Singer/Songwriter (Band Member of "Stealing Angels") *Caroline is a direct descendant of Daniel Boone
Name: Jennifer Kuhle
Age: 30
Hometown: Nashville
Current occupation: Songwriter (Band Member of "Stealing Angels") *Jennifer is the granddaughter of John Wayne
Connection: Friends/Country Singers

Name: Joey Graceffa
Age: 21
Hometown: Los Angeles        
Current occupation: YouTube Host
Name: Meghan Camarena
Age: 25
Hometown: Los Angeles
Current occupation: YouTube Host
Connection: Friends/YouTube Hosts

Name: Pamela Chien
Age: 29
Hometown: Los Angeles
Current occupation: Art Director and Fitness Instructor
Name: Winnie Sung
Age: 29
Hometown: Los Angeles
Current occupation: Senior Project Manager
Connection: Best Friends

Name: Jessica Hoel
Age: 26
Hometown: Huntington Beach, Calif.
Current occupation: Account Manager
Name: John Erck
Age: 27
Hometown: Huntington Beach, Calif.
Current Occupation: Entrepreneur/Computer Programmer
Connection: Dating

Name: Matthew Davis
Age: 25
Hometown: Gaffney, S.C.
Current occupation: Firefighter
Name: Daniel Moss
Age: 24
Hometown: Gaffney, S.C.
Current occupation: Firefighter
Connection:  Best Friends

Matt Richenthal is the Editor in Chief of TV Fanatic. Follow him on Twitter and on Google+.

Tags: The Amazing Race, Reality TV
From Around the Web