Amy Brenneman Teases Private Practice Finale, "Concluding the Novel"
by Matt Richenthal at .
She couldn't zero in on an exact number, but Amy Brenneman laughed at the question and admitted to me over the phone last week:
Yes, viewers will likely need a "few" boxes of Kleenex while watching tonight's Private Practice finale.
The episode, of course, centers on Addison's wedding to Jake and, unlike most of the installments that have comprised Private Practice Season 6, Brenneman describes this one was appropriately "communal."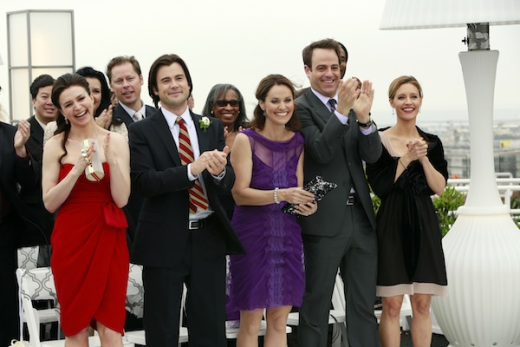 "This has been a novel with many, many chapters," the actress said, explaining how there's "no huge plot twist that blows everyone away tonight," but that the episode is simply "respectful to the characters and the audience."

And Brenneman's Violet will play a key role in wrapping the series up, as Sarah Ramos guest stars tonight as a patient the audience has never seen before, someone who has been seeing Violet for five years.

"I believe she's ready to go, but she disagrees. We've been meeting once per week for years and she has to learn that it's gonna be okay. We've shared this time together and now it's time to move on."

Hmmm... wait! That sounds familiar.

"What [Creator Shonda Rhimes] has done so artfully," Brenneman said, "is have Violet speak to the audience directly and acknowledge the partnership we've had. She plays an important part in concluding the novel."

And which chapters of that novel stand out the most?

Brenneman cites the Private Practice Season 3 premiere and Amelia's intervention as two of her favorite episodes. She says she'll miss taking impromptu tap dance lessons from Taye Diggs and she's proud to have played someone who has been able to "help other people."

All the characters "really grew up," Brenneman said. "We saw them these these seminal years, taking chances, getting married, becoming parents. I'm proud that Violet ended up on her own two feet, that's she an example that there's dignity in being a single person."

The Private Practice series finale airs at 10/9c tonight on ABC. Bring Kleenex.

Matt Richenthal is the Editor in Chief of TV Fanatic. Follow him on Twitter and on Google+.

Tags: Private Practice, Exclusives, Amy Brenneman, Interviews
From Around the Web