"Between Two Worlds" was an apt title for tonight's Cougar Town, as we witnessed Jules and Grayson decide on last names, Bobby wonder where his life is going and the selflessness of Travis with Laurie come to the forefront.
As I've noted ad nauseam throughout my Cougar Town Season 4 reviews, the comedy is there, but along with it comes character growth and related problems. Personally, I wouldn't want to watch a sitcom any other way because jokes from soulless characters get old quickly.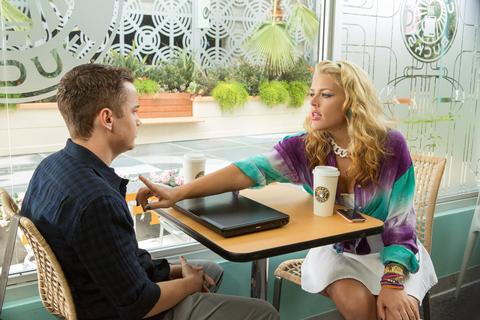 It's fun to have the prevalent running gags, but it's also enjoyable and topical to pull laughter from new or evolving situations. Bobby's decision to change his name to Ron Mexico was typical and hilarious, but underneath all of it there's a man who wonders where he is going in life and if he is now just tumbling down after hitting his peak in high school.
Of course, Bobby wants to be Ron for a day when those are the thoughts that are running through him at night. His friends and family love him, but he's also a little isolated and lonely comparatively. Here's hoping Andy's wonderful speech to Bobby comes true.
Travis and Laurie working to figure out his superpower may have put a stake in any kind of forward momentum between them because Travis graciously bowed out of the race for her heart as he distracted her from her worries - but it doesn't mean he hasn't given up entirely as he swatted away her name is Scrabble tiles when she walked in. But not all is lost as Laurie gave us the following line:
Laurie: Don't look a gift whore in the mouth. | permalink
Jules wanting to argue and Grayson NOT arguing so he wouldn't repeat his past marital mistakes was a nice moment of drama within the show. It's easy to forget that both Cox and Hopkins have experience in drama (remember Hopkin's pining for Addison's heart in Private Practice?), and the makeup between two of them offered a moment of realness the show excels at.
But it's nice to know if these tandems ever get old, Bobby and Andy and Ellie and Jules will make super awesome gay couples:
Jules: This sucks I need Grayson to care about what's going on in our lives. All I ever wanted was to grow old with someone and argue with them while we drink wine.
Ellie: That sounds like us. What do you say we pack it all in and become big ol' dykes?
Jules: No, not yet, but I'd like to know that choice is out there. Stay skinny just in case.
Ellie: Deal. | permalink
A Few More Thoughts:
Wine spikes should be mandatory wherever grass is found.
Does anyone else think Bobby will eventually move into Grayson's old house?
The green screen makes a comeback!
What did you think of tonight's Cougar Town? Let us know in the comments!

Nick McHatton is a TV Fanatic Staff Writer. Follow him on Twitter.

Tags: Cougar Town, Reviews
Want more Cougar Town?
Sign up for our daily newsletter and receive the latest tv news delivered to your inbox for free!
More From TV Fanatic
This week on The Last Ship, Danny gets sick and the crew begins to panic. Is it the virus? Meanwhile, Rachel's vaccine trials continue to fail.
Who was able to successfully problem solve on The Rachael Ray Show this week? Find out now in our review of Food Network Star.
The Masons are reunited on Falling Skies Season 4 Episode 6. Will it be a happy or contentious reunion?
What took place on The Real Housewives of New Jersey Review this week? Read our rundown to find out!
---