This was not New Girl's finest hour.
While "A Father's Love" did attempt to tug on the viewer's heartstrings, it mostly failed to actually make me laugh for the majority of the half hour. As always, Schmidt had the winning lines, but tonight's episode banked too hard on horse semen and a weird Nick diabetic dance to carry the laughs.
It's interesting watching New Girl when it tries to do serious and heartfelt. I remember liking the episode on New Girl Season 1 titled "The Injury," but also thinking it wasn't all that humorous. It must be a difficult balance to strike: to be hilarious and also warm. But other comedies do it better.
I'm thinking of Parks and Recreation in particular, which allows its well-developed characters to be themselves and create their own moments. So maybe it was the the appearance of Nick's father that didn't quite do it for me?
Regardless, let me discuss the few moments in between that did work: Schmidt and Robby uniting to form some kind of Ocean's Twelve group to take out any of Cece's potential suitors was great. Especially the En Vogue song in the background at the bar when they were plotting. But I'm a sucker for Schmidt basically doing anything that involves some kind of monologue. He's one of my favorite comedic characters on television right now.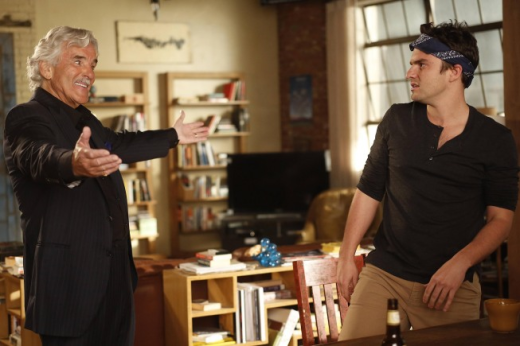 I also didn't hate the minor moments with Winston buying into Mr. Miller's conning and fearing him. Winston has moved up in my book after last week's messing with Schmidt. Again, any character who interacts with Schmidt is elevated and Winston was also finally given a really funny storyline to bolster his character's likability. I like that this show isn't afraid to talk about race and laugh about it. I wasn't offended, but it's hard to know the temperature of all the other viewers who watch. I digress.

As I said though, the horse stuff was a little rough going for me. Curious how everyone else viewed the episode. Jess was being perfectly Jess though in her gullible, too-trusting self. And so it makes sense she'd be so frustrated at being wrong in the end. Enter angry sink fixing. So it's not like anyone was out of character. I think the mix this time around just didn't work.

And now we have another piece of the Nick puzzle. Although I almost wish we could have gotten this piece from a quick flashback rather than an entire episode devoted to his con artist father with a love for the races. Speaking of con artists and flashbacks, the last time I remember hearing con artist this much was when Lost was on and Sawyer was working his latest con.

I'll leave you with Sawyer for one remaining image from this piece. Or horse semen. Your pick. 

Tags: Reviews, New Girl