With The Carrie Diaries is off and running on The CW, viewers have proof that this is anything but a mini-Sex and The City filled mini-Mirandas, Samanthas and Charlottes following a young Carrie Bradshaw around.
But how exactly did Amy B. Harris (who developed the show and was also a SATC writer) work to find a balance to pays homage to the popular HBO series yet still makes The Carrie Diaries feel original?
TV Fanatic sat down with Harris at the recent TCA Winter Press Tour to talk shaping the new series, as well as casting AnnaSophia Robb in the title role and just how much Carrie's [gasp!] virginity will play in the show moving forward...
-------------------------------------------
TV Fanatic: What would you say to people who might be a little skeptical of the show given its origins?
Amy B. Harris: I think I would say watch it. See what it's like for curiosity's sake and if you like it and are pleasantly surprised, then come back again. And if it's not for you, I can't force you to watch it again.
TVF: How did you decide some of the subtle little nods to SATC? Those moments in the pilot never seemed heavy handed or forced.
ABH: We talked a lot about the very small and subtle ways we could put that shimmer in, and even for me, the closet…when I came up with that idea that the closet becomes a sort of thing that looms large, just as a story point, which I felt was very real…and then the thing for us was that adult Carrie Bradshaw dresses in vintage and dresses couture and mixes the two, and the idea that suddenly she had this closet of clothes to choose from, and really, genuinely, that it was emotional for her, too, that being able to hold onto a piece of her mom was something wonderful was exciting for me.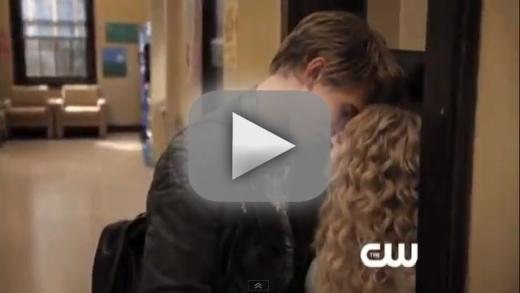 TVF: In the pilot, you see Carrie's life slowly getting split between her new Manhattan life and her school life and there's a lot going on in each world. Is she going to fail in some areas, succeed in others?
ABH: I think that's a very good way to describe that. What I really feel like is, and this is why AnnaSophia is such a phenomenal choice for the part, beyond just the fact that she's amazing and winning and professional and delicious...

When we talked for the first time about the part, she went to high school in Denver. She had a big career of her own but who took her to the prom [and] what she was going to wear to that prom was as important to her as stepping foot on a movie set, going to a red-carpet premiere…those were real, authentic things for her.

I didn't want somebody who made Carrie Bradshaw feel like, 'Just get me to New York, get me to New York.' I wanted somebody who really loved her friends, had romantic interests that were real and connected and then also had this other place that was starting to form who she was going to be.

TVF: In Carrie's New York life, she has created this older character for herself with Larissa. Is Carrie going to keep that up for a while?
ABH: We've been playing the comedy of sort of the fresh face, make some jokes about how old she thinks she is versus how old she really is. We will play that out in this season. But the premise of the show is not teenager hiding her kid life in...at some point it will all come to an end.

TVF: Carrie's virginity is an issue in the first episode. Is that going to be something that will be part of the first season?
ABH: She'll definitely be talking about it and thinking about it and wondering where to take it in the first season. Whether or not that goes away in the first season, I'm not sure yet.

TVF: It seems like Walt (Brendan Dooling) is in for quite a journey since it seems he isn't quite ready to deal with his sexuality. How will that play out moving forward especially given it's the 80s when being out was a very different thing?
ABH: It's wonderful that so many teenagers can now come out at a very early age but there's a lot of kids who can't, and I hope that, for kids who are really struggling, this will be something that they will be able to relate to.

I think Walt is starting to realize he is emotionally attracted to Maggie, which I think is also a piece of the puzzle. It's not just sexual. It's really bigger and different than just, 'Oh, I'm attracted only to men.' It's like who you're actually emotionally attracted to.

TVF: Talk to me about bringing in some of the SATC characters, whether it's a younger Miranda or Samantha or a Stanford, something like that. Is that just going to be 'let's play it by ear to see how things go,' or maybe not go there for several seasons?
ABH: I sort of went to the network and said, 'Here's what you won't be seeing. Four mini-versions of these people wandering down the street.' And they were like, 'Okay.' I felt that was very important. Get to know Carrie, fall in love with her, learn about her group of friends, that were really her friends from that age as opposed to just sort of faking that somehow Miranda could have somehow fit into that world.

But yeah, I thought a lot about how to bring in those friends, and I have some thoughts, but I'm waiting to see how the first season goes. I'm too superstitious to even think past that.

The Carrie Diaries airs "Lie with Me" tonight at 8/7 on The CW.

Matt Richenthal is the Editor in Chief of TV Fanatic. Follow him on Twitter and on Google+.

Tags: Exclusives, Interviews, The Carrie Diaries