Now this is the kind of Castle episode viewers have grown to love. Tension filled, high action filled and drama filled and filled. The perfect combination for this series. Let's talk "Recoil."
The Return of Senator Bracken. Jack Coleman returned to play the evil senator once again. This man really knows how to make you feel uncomfortable. Even with a generic face, it is still enough to make you shiver. This character is a bad man and Coleman plays him really well. Just as well as he played Caroline's father on The Vampire Diaries and HRC on Heroes.
The case centered on an attempt to kill Bracken after one of his aides is murdered. Beckett is put on the case to protect the man who killed her mother. Seriously, how would you even attempt to do this?
The scenes between these two characters were nothing short of great. They were well acted and felt so sincere. Kudos to Coleman and Stana Katic.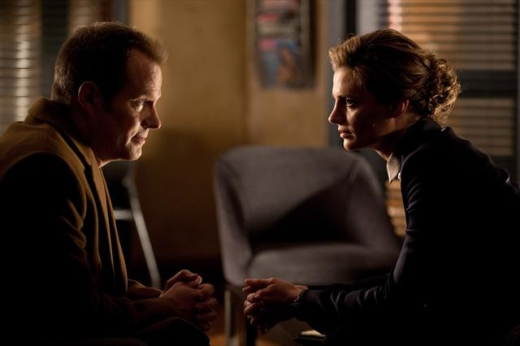 Framed. Turns out that a father was framed for attempting to kill Bracken after he went off the deep end following the death of his son. Not surprisingly, the son worked as an intern for the senator who gave the impression he was involved in his death.
How does a man do this? How can someone in such a powerful position have people killed like it's no big deal? Many agree that a lot of politicians are corrupt. Could you imagine if someone in office was really like Senator Bracken? Creepy.
The Case Continues. The situation with Bracken is not closed...yet. The man was brought back in for an episode where the writing made it seem perfectly comfortable in the story. This is not a character that should pop up every week, but is welcome to creep us out when the arc fits.
So, we already knew that Castle, Espo and Ryan knew about Bracken killing Kate's mother. Gates overheard in the interrogation room. Will the Captain join the team to take down Bracken?
Side Notes:
No Martha or Alexis in the hour. Anyone miss them?
Are we all in agreement that when Castle shows up in his "Writer" vest, the episode instantly gets better?
How does Kate help save the life of the man who murdered her mother? 
Overall, a fun and enjoyable episode that lived up to the Castle standards. What did you think, TV Fanatics? Did you enjoy the hour or was is a little too all over the place to keep your attention. Sound off below in the comments and let us know what you thought of "Recoil."

Check out the Castle quotes page for some great comments from Esposito and don't forget to check back later this week for the Castle Round Table. 

Until next time, Castle fans!

Tags: Castle, Reviews
Want more Castle?
Sign up for our daily newsletter and receive the latest tv news delivered to your inbox for free!
More From TV Fanatic
On Perception, Daniel and Kate investigate an art heist. Also, Daniel must make a decision about his love life.
Things on Pretty Little Liars looked pretty darn bleak this week as Hanna's friends started to get sick of her but Zack couldn't get enough. Read the review for more insight into the latest installment!
Evan, Paige and Bob confront Russel about his rug theft, while Divya and Jeremiah treat a woman desiring to be a mom. But were those all the surprises the Hamptons had to offer? Read our review of "I Didn't See That Coming" now!
On Chasing Life, Leo makes wishes come true. Elsewhere, Brenna meets her other sister, discovering one more family secret. Read on for more!
---