Jack Coleman returns to Castle this Monday in "Recoil" as Senator Bracken, the mythical dragon who orchestrated the murder of Detective Kate Beckett's mother.
I got to speak with the actor on his tendency to play morally ambiguous characters and what it's like to portray the man pulling Kate Beckett into the dark. Read on for excerpts from the Q&A...
-------------------------------------------
First, I have to tell you I've been a fan of yours since you were Jake Kositchek, the Salem Strangler on Days of Our Lives. It was the first serial killer story I'd ever watched and you made an impression.
Ooh! That goes back a few years. Oh wow! 1981 I'm afraid to say. '81 to '82. Back before there were cars.
It's great to have you back on Castle, but how does it feel to be the most hated man in the Castle fandom?
You know what, you want to elicit a response. If you're going to be a bad buy, the best way to be a bad guy is to be a bad guy that personally affects the hero. That's always fun. I'd rather be loathed than ignored. Actually, that's probably even true of my life. Having a teenage daughter there's no danger of being ignored. You just will be loathed.
But that's really what it is. It's fun being a bad guy. You just want to make sure you're a bad guy that has some kind of an impact.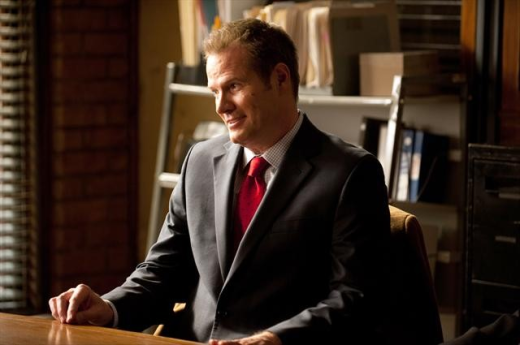 Had you watched the show before you got the role?
I had watched the show, yes. I had not seen all of the episodes so I certainly had a lot of catching up to do. They very kindly sent me a DVD of sort of every pertinent scene to the story of Beckett's mother's murder. So that was incredibly helpful. It brought me up to speed because there's just so much mythology there. It was really nice to have that tool and to know all the ins an outs and all the other people he's brought down, not just her mom.

You seem to have a tendency to play somewhat morally ambiguous characters. How do you view Senator Bracken? Is he as unrepentant as he appears? Is this guy pure evil?
Unrepentant, he is. I don't think there's any way around that. It doesn't mean one can't repent at some point, but he's pretty unrepentant. I think he sees himself as a guy that has done what has needed to be done. That he feels like the world is full of people who don't have the stomach to do what they need to do and he's done it. And he's certainly worked in a morally murky world, prosecuting criminals and he and his guys used to kidnap the bad guys because they couldn't get a subpoena or they didn't have the time. They cut a lot of corners in the name of doing good and then quickly you find yourself maybe not doing good. But the justification complex is already in full swing so he finds a reason to justify everything he's done. He's a bad guy, but like all bad guys doesn't see it that way.

This is your second time on the Castle set. Do you hope to have a third?
I'd love to come back. I really had a fun time this time because we had a lot to do. They really gave the character teeth. Stana Katic and I had a bunch of things together and every one of them was just laden with moral complexity.  I would say that Castle represents light and love and this guy represents the dark and death and they both have a hold on Kate Beckett. I think it's really great for her character to have that yin and yang. To have the darkness and the light really both pulling on her.

We really had a great time. I just have to say that Nathan and Stana and Seamus and Jon and Penny are all just so great. Just lovely, warm people. That is a really fun set to be on. When I told Adrian Pasdar (former Heroes costar) I was going to do some episodes of Castle he said, You're going to love it. Nathan Fillion is the nicest guy in show business. So first I had to get over my own hurt that I was not the nicest guy in show business but once I did that, I agree he's a very, very nice guy. And Stana and I knew each other from Heroes and we get along really well and we had a lot of fun.

It's fun to play these scenes that are just loaded. Every look, every thing that is said is loaded with some kind of psychological impact. When there's that much subtext and that much going on even beneath the words, that's really fun stuff to play.

You've been on so many shows over the years. Have you had a favorite?
I will always be partial to HRG on Heroes. That went from a tiny little guest star in the pilot to being this incredible role that they just continued to build and write for me. Both from a professional stand point and in terms of where it started and where it went it was incredibly gratifying. But also just the scenes that I got to play. That I was sort of the guy who always knew what was happening even though I didn't have any powers of my own. That was really fun part to play and of course all of the moral ambiguity. Just when you thought he was a bad guy he would do something really good and then when you thought he was a good guy he'd do something really bad. That stuff is very fun to play.

If you could choose to star on one current TV show, what would be your dream role?
Maybe they would spin off Breaking Bad for me. I always seem to be bad, I just need the right break.

C. Orlando is a TV Fanatic Staff Writer. Follow her on Twitter.

Tags: Castle, Exclusives, Interviews