Great things can come from terrible situations.
Boyd Crowder's clan has been reeling for a while now.  Whether it be exterior issues via Preacher Billy and Wynn Duffy or within the group courtesy of Johnny wavering, Shelby defecting, Ellen May escaping, and Colton jones-ing, the Crowder clan has been in dire straits.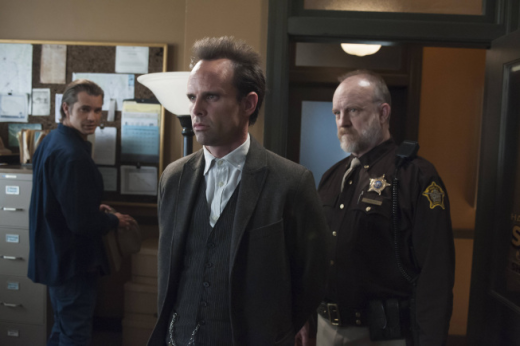 The ending to "Foot Chase" was the greatness that came out of that terrible situation, and it was incredible for several reasons.
I loved seeing Boyd and Ava happy after she accepted his strange proposal.  Way back in season two, when these two first became a thing, I was skeptical of their chemistry moving forward.  Two and a half seasons later, I wouldn't want my Justified any other way.  They work. Each character has changed a bit for the other (Ava more towards Boyd's way of life than vice versa), and now they seem like a perfect fit.
Most importantly, it gave the audience (or just those of us who want to see Boyd end up okay) some hope that Boyd could actually get out of this business at some point.  There is an end game.  His comment about wanting other parents to be fine with their kids playing with a Crowder kid was awesome.  Sure, he's a bad person, but it's a means to an end.  At least some part of him wants to get out, and that's an end we can dream for.
Before the actual scene with the money and the ring, Joelle Carter was absolutely sensational in explaining to Boyd that Ellen May being dead was "tearing her apart."  It was truly some of the best work yet by Carter.
Boyd put tried to put the ring on the wrong hand. Ha!
None of that solves the multitude of problems the Crowder clan is currently facing.  All are legitimate, and all could completely crush Boyd's plans, but what keeps holding me back on getting completely engrossed in it is Colton's arc.

It seemed a little out of place when he jumped into town and immediately became Boyd's right hand man to begin with.  Now, with losing Ellen May and going crazy on the H, his whole arc seems more out of place than ever.  It feels more like a plot contrivance than anything I've seen before on Justified.  If it were a minor character that we had seen before in this world it might have worked better, but for now, I'm just bothered by it all.

Meanwhile, our favorite man in the hat spent most of his time acting out the eponymous foot chase as he searched for the one-footed body of Josiah.  Throughout the hour it was revealed that Josiah was in fact Drew Thompson, and then revealed once more that he in fact wasn't Drew Thompson!

In telling his lawyer that Josiah was Drew, Arlo screwed her over for cutting off the deal he had made to free himself.  So does that mean he gets a new lawyer?  One that won't be held down by Boyd?  And one that will allow him to make the deal?  Will he give up the true location and identity of Drew Thompson?  The suspense is killing me!

Although it's not killing me nearly as quickly as that open leg wound was killing Josiah.  Man, that was some disgusting stuff!  When the one moron was ready to take the blow torch to the nub, I had to turn away.  That was some gory business.

This next step in the search for Drew was yet another fun one, as Raylan got to team up with Sheriff Shelby for much of it.  As far as Jim Beaver sheriff roles go, I will take this performance over his turn as Sheriff Mills on Harper's Island any day of the week and twice on Tuesdays.  Shelby having fun with Raylan, saying he can't remember what happened with Ellen May, was pure entertainment.  Maybe Olyphant just has great chemistry with everyone on screen.

Finally, I really enjoyed seeing Tim Gutterson getting some more screen time, and his own story this week!  Jacob Pitts can deliver deadpan sarcasm with the best of them, so I'm hoping that he gets more time to do so, and that we learn even more about Tim as things move forward.

What did y'all think of "Foot Chase?"  Was it one of the better Justified Season 4 episodes so far?  Or did it miss a step?  What were your favorite moments?  And what did you think of that proposal?!?!

Dan Forcella is a TV Fanatic Staff Writer. Follow him on Twitter.

Tags: Justified, Reviews