Modern Family Review: Cats In The Cradle
by Leigh Raines at .
After a hilarious turn as The Godfather, Phil Dunphy was back to his usual goofy self! In "A Slight at the Opera," Phil spent the afternoon with Jay learning how to play golf for a client meeting later that day.
However, when Jay and Phil ran into Mitchell and Pepper (guest star Nathan Lane) the game got a lot more interesting.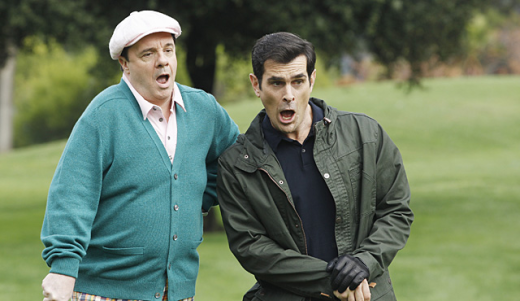 Golf isn't exactly my cup of tea, but Lane manages to jazz up any scene he's in. When he and Mitchell bumped into Jay and Phil at the course, it was far from an accident! Mitchell had spent half a year learning to hone his skill just so he could prove to Phil that he wasn't a complete loser at sports. 

I feel bad that Mitchell still feels like he has to prove himself to Jay so much. It's interesting that the best way to get him to excel during their competition was for Pepper to hurl insults at him and haze him. It was the same thing with Phil. It doesn't work for me, but I guess negative commentary makes certain people work harder. Then when Jay finally gave his son a compliment, Pepper assumed he was "Cats in the Cradle-ing" him. 

Maybe it's because I'm a girl, but I never found "Cats in the Cradle" to be much of an emotional song. I feel like it's much more of a father/son thing. I did love the four of them in their golf carts weeping and expressing their emotions. I also love how supportive Phil's father was of him and the family, whether or not it was a little out of control. I mean, he thought Luke just painted the set, there was no way to predict he'd be a secretly awesome understudy!

Coming off of a few episodes where she was a load of fun - such as "New Year's Eve" - Claire was back to being her usual nagging self. Will she ever get off of Phil's back? She totally deserved it when the smoke alarm finally went off once Dylan was leaving the baby. Then again, the thought of Haley and Dylan reproducing is pretty scary.

I'm sorry for dozens of things everyday that actually happen. If I start apologizing for things that don't happen, how productive or a person would I be? | permalink

I liked Alex and Gloria's trip to the psychic. Alex needs to have a little imagination sometimes. Maybe she'll loosen up if the guy from the play does end up being her boyfriend? By far the best line was when Gloria tried to play it off like she wasn't strong enough to carry the ice and Alex called her out on carrying Manny to bed. Gloria will tuck Manny in until the day he goes to college.

What did you think of this week's Modern Family? It wasn't the best but I thought it still had some great moments.

Leigh Raines is a TV Fanatic Staff Writer. Follow her on Twitter.

Tags: Modern Family, Reviews
From Around the Web