Mike Colter is having a busy week.
He returns to The Good Wife this Sunday in "Runnin' With the Devil" as the enigmatic business man/drug lord Lemond Bishop and the very next night Monday he checks in to The Following on Fox.
I spoke with the actor about whether prison has changed the mystique of Lemond Bishop, whether he's lost trust in Lockhardt Gardner and the struggles of filming in the great city of New York.
-------------------------------------------
Lemond Bishop is headed back to The Good Wife this Sunday, but it sounds like he's spent most of his time in jail since we last saw him.
Yeah, some time has passed and he didn't get out as fast as he thought he was going to get out. They've been building a case against him and it's time for him to see whether he can figure a way to get out of this situation. This should be interesting.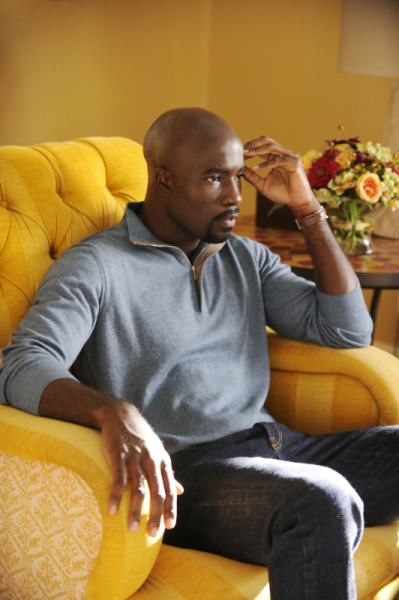 Lockhart Gardner hasn't been able to get him out on bail. Has that eroded his trust in the firm, or in Alicia?
You know, I think he's always the kind of guy who likes to do things a certain way. He's always resourceful so he's never dependent on one avenue. He's the kind of guy who's always looking to explore every option available to him. I think the first time we saw him he had Lockhart frame his other lawyer, so he's a man that has many, many options. I don't think he's always depending on the legal system to get him out of this situation. He's very resourceful. I'm assuming there's going to be more than just Lockhart Gardner involved in helping him.

Last time we got to see more about his home life. Will that come into play this time?
You'll see glimpses of it but mostly he's been in a federal penitentiary since the last time you saw him but we will get a chance to see some more of his family.

Lemond Bishop has always had such a mystique about him. Will that change now that he's spent months in prison awaiting trial?
We learned the last time he was on The Good Wife that the guy has been in once before but it's been a long time. I think he's learned his lesson from that. I think when you spend a lot of time out of the confines of prison, you just can't imagine a guy like that going to prison. I think it's affected his swagger a little bit. Mostly I think he's felt this has not been an easy time and I don't think it's something that he expected. He's been out free and doing what he wants to do for so long I just don't think he saw this coming so I think some of his swagger may be lost a little bit. It will be interesting to see if he can get that back.

Any chance we'll see Lemond back again this season?
They're still filming. They've got a couple more episodes but I don't know yet. I don't foresee it but it's a possibility. Anything's possible.

I hear you'll also be appearing on Fox's The Following this Monday. What can you tell us about that?
I'll be playing a guy, Nick Donovan. For the viewers who have watched The Following, they probably realize that things have gone pretty haywire over there. Kevin Bacon's character who is hunting this serial killer's cult, is basically at a loss and I think that they've run into some problems. My character comes in from Quantico and he's seen enough. He's a guy they send in to get things back in line. So it's pretty interesting to see him and Kevin Bacon butt heads because they're two different kinds of guys. They do things in different ways so this will be interesting to see how they can actually try to work together for the common cause which is basically to bring down the cult serial leader who has escaped recently. If you've been watching you know that he's escaped so now that he's gone, heads are going to roll. We have to figure out exactly whose fault it was that he got away.

Will this be a recurring role?
It should be ongoing for a while so we'll see where it leads. So far it's recurring and we'll see wherever it goes.

Do you have any other projects in the works?
Actually I'm just getting back home to L.A. to rest because I've been in New York for the last three months. I was there for the zero degree weather and The Following shoots a lot of scenes outdoors so it was quite interesting. Yeah, zero degrees, wind chill, I experienced it all. There's nothing like shooting in New York City in the winter time.

Anything else you can tease us with about this week's The Good Wife?
I think it's going to be interesting to see how Lemond's going to try and fight this case. I think you'll be surprised by the resources that are being called in. It's not going to be what people expect. It's not going to be something that you are going to see coming. It's going to be interesting to see the kind of people Lemond Bishop associates himself with. He's never at a loss for shock value.

C. Orlando is a TV Fanatic Staff Writer. Follow her on Twitter.

Tags: The Good Wife, Exclusives, Interviews, The Following