Drew Thompson may have been in US Marshal custody, but the Detroit mob wasn't ready to give up the chase. "Decoy" was an epic showdown between those protecting Drew and those that wanted him dead.
In this edition of the TV Fanatic Round Table, staff members Dan Forcella, Christine Orlando, Jim Garner, and Carla Day discuss the magnificient bantering, showdowns, and Bob's unexpected strength. 
----------------------------------
What will happen to Johnny now that his secret allegiance is out?
Dan: He will be forgiven by Boyd, feel a bit too comfortable, and then meet his maker at the most unlikely moment.
Jim: He may be joining Devil, we saw how it worked out for Devil to try and double cross Boyd.
Christine:  I'm with Dan on this one. Boyd will make him feel safe before taking him out ... or if he's smart he'll run, so to speak.
Carla: Boyd's got trouble all around him and will need all the help he can get. I wouldn't be surprised if he offers Johnny a deal for redemption.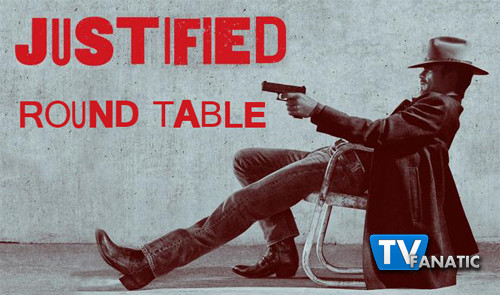 What was your favorite scene from "Decoy"?
Dan: My favorite scene was definitely watching Tim Gutterson do his thing in circling the wagons.

Jim: I loved Raylan and Boyd discussing the Astronaut. It reminded me that they are very similar and just took different paths. 

Christine:  There were so many in this episode but I've got to go with my girl Ava. She kept her head, never let him bait her and then took her shot and ended up walking out the door.  That's my girl.

Carla: I've grown to love it whenever Tim is on the screen. He was brilliant and witty in his manipulation of Colt. 

Were you surprised by Bob's ability to hold strong while being pummeled?
Dan: Surprised?  Yes.  I was also excited, giddy, and especially proud.

Jim: Totally shocked by it. I take back what I've said about him in the past. Dan, you clearly saw more in him than I did.

Christine:  Absolutely.  Bob's the man. Who knew?  Even Raylan was forced to live up to his example.

Carla: Never would have guessed. I have a whole new respect for him. Bob proved that sometimes there's more to a person than you possibly imagine. I'm a bit in awe of him right now.

Who had the best banter and why? Tim and Colt? Raylan and Boyd? Bob's "Drewisms"? Or, Ava and Nick?
Dan: Oh this was definitely Tim and Colt.  How coy each was while chatting about the situation was fantastic.  I loved the Lt. Dan remark.

Jim: I really enjoyed Tim and Colt. But then Colt was in rare form when he turned lemons in to lemonade by tricking his mafia counterpart into giving him the rifle.

Christine:  Tim and Colt were awesome but I'm going to go with Raylan and Boyd. Somehow it feels like they're bantering when they're not even in the same room.  That's how well they know one another. I loved how they both made it to the high school and immediately started talking about the astronaut. Their relationship is what makes this show so special.

Carla: They were all outstanding. Tim and Colt was my favorite, but I have to give props to Bob for adding some humor to his pummeling. Drewbacca anyone?

On the our normal episode grading scale of 1-5, what do you give the Drew Thompson storyline?

Dan: I give it a 4.0. I thought it dragged on a bit too long, so it doesn't get the 5 that many Justified plots would, but it was still too good to give anything lower than a 4.

Jim: Giving it a solid 4. I enjoyed that Drew turned out to be someone we've known for a while and still likable in the end. 

Christine:  Overall, it was a pretty good mystery. I'll give it a 4. And I like Shelby. I hope he somehow survives all of this. I loved the end of this episode where Rachel's taking him out of Harlan by train. That just seemed perfect.

Carla: I agree with Dan that it went on a little too long. The last couple episodes though were highlights. And, the reveal that Shelby was Drew Thompson and he had redeemed himself throughout the years was a positive.

What will happen to Johnny now that his secret allegiance is out?
Dan: He will be forgiven by Boyd, feel a bit too comfortable, and then meet his maker at the most unlikely moment.

Jim: He may be joining Devil, we saw how it worked out for Devil to try and double cross Boyd.

Christine:  I'm with Dan on this one. Boyd will make him feel safe before taking him out ... or if he's smart he'll run, so to speak.

Carla: Boyd's got trouble all around him and will need all the help he can get. I wouldn't be surprised if he offers Johnny a deal for redemption. 

What is the biggest threat to Boyd and Ava now? The Detroit mob? Ellen May? Or, something else?
Dan: The biggest threat to Boyd and Ava is the frozen yogurt boom.  With another one popping up everywhere you look, how will their new Dairy Queen franchise stand a chance?

Jim: I would say YES ... Boyd and Ava are up to their ears in it and there is no telling what's going to pull them under.

Christine:  Oh come on Dan. How can anything compete with a Peanut Buster Parfait?  Although where Ellen Mae might be bought off with some ice cream, I doubt the same can be said for the Detroit mob.

Carla: With no sheriff in town, Ellen May probably won't be an immediate risk. The Detroit mob will make a point of making Boyd pay. It might be a good time for the couple to elope and go on a nice long honeymoon.

Carla Day is a staff writer for TV Fanatic. Follow her on Twitter and on Google+.

Tags: Justified, Round Tables