Elementary Review: The One Year Coin
by Kate Brooks at .
"Dead Man's Switch" revolved around a disturbing case of rape.
But despite the subject matter, this was an enjoyable episode of Elementary due to twists of the case and the backstory of Sherlock and his true sobriety. Obviously, the best aspect was the return of Alfredo and his significant role.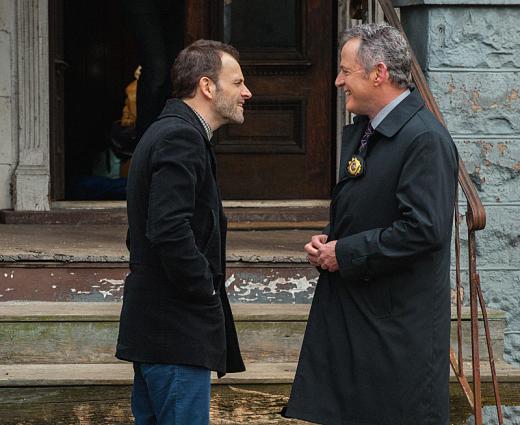 I'll talk about the case first: frightening. Gregson came into the conference room in the beginning to meet with Sherlock and his reaction was perfect. He was pissed and disgusted by the video of the young girl being raped. It was played so well and it made me feel the intensity of the case. This wasn't just a murder, it was revolving around three gruesome acts.

Like Sherlock, I enjoyed seeing the rapist beat to hell in jail. Who wouldn't have?!?

While waiting to figure out the identity of the accomplice, I was on the edge of my seat trying to guess that it was someone that we already met. I didn't see the dad being the one behind it all. What a sick man.

In previous Elementary reviews I have praised Alfredo and this episode proved why. He is a really great addition to the show, perfect for Sherlock. When he said, "I know it's hard to do but get over yourself" to Holmes? Exactly. That's all I have to say about that.

The relationship between Joan and Sherlock grows stronger and stronger every week. The latter went from saying that he didn't need to talk about his sobriety with Joan anymore because she wasn't his companion... to at the end of the episode confessing why he doesn't want his sobriety coin. Just another scene of hundreds that prove why these two are just so great together.

That moment was also another great reason why Johnny Lee Miller is such a great actor; Sherlock was shaking and stumbling with his words to tell to Joan the truth about relapsing one day later, and that's all Johnny. He's phenomenal. As is Lucy Lui.

Like I said before, I will go down with this ship! That framed quote of Robert Frosts. Beautiful and perfect. Seemed Sherlock agreed too. They just get each other! It's the best part of the show for me, it makes Elementary what it is.

This episode was a good one all around and next week looks even more intense because Moriarty comes up again. Let the countdown begin!

Tags: Reviews, Elementary
From Around the Web