Elementary Review: Moriarty Emerges
by Kate Brooks at .
"A Landmark Story" was quite the landmark episode. I am so stressed out after watching, but I loved every single minute of it.
Earlier on,  we had the introduction of Moriarty in "M" and until this episode it stood as my favorite of Elementary Season 1. When you throw Moriarty in the mix, it gets my heart racing and I yell when a commercial comes on. I can't get enough.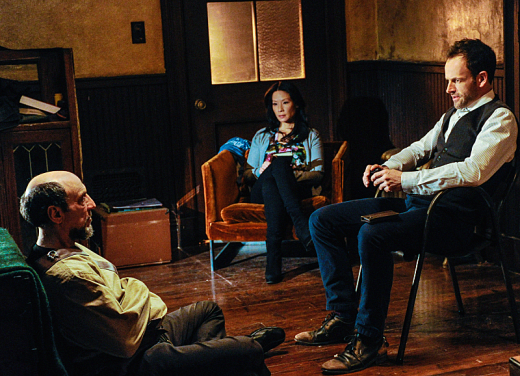 The case was centered around a group of people being murdered who were associated with trying to pass a landmark for New York City. Well, enter an older man (pictured in the straight jacket above) killing a guy by hacking his pacemaker. I know he killed him but, man, that was some pretty cool tech. Who knew a space-bar could be so lethal?

The thing that was so sly about this murderer was that he made everything look like an accident, which is also terrifying. From forcing a heart attack to dropping a air conditioning unit on someone. Crazy!

Once again, Moriarty fooled not only us but Sherlock. The most intriguing thing about him is that he is the best con of them all. Moriarty is pure genius. I really have no idea where the story is going right now. But I dig it. The mystery keeps me coming back.

However, I will speculate that some time in the future - maybe the finale, maybe next season - Moriarty will use Joan against Sherlock the way he uses Irene. The people closest to Sherlock are his biggest weakness and Moriarty's best asset. If that is the route they go, I will be on the edge of my seat.

I do look forward to seeing the moment when Sherlock outsmarts Moriarty. You know he has to at some point in the series.

Going back to the rest of the episode, the best part for me was when Sherlock and Joan were sitting on the bench having a moment. Joan was concerned that he would go down the same route as he did in the aforementioned "M." She was worried that nothing was different.

Sherlock's response? "You ask what's different this time and the answer is you."

I don't really ship these two as a "couple" at the moment but this scene made it really hard for me to not say, "NOW KISS." I don't want to ruin the scene by fangirling over their insane chemistry but if these two got together, I wouldn't mind.

The last scene gave me chills, literally. I even yelled at the TV when it cut to black. I just want to meet Moriarty and see his real face and meet someone who is a patsy. I'm so ready for next week but then again, I'm really not. My fangirl may not be able to handle it.

Tags: Reviews, Elementary
From Around the Web