Susanna Thompson Talks "Intense" Arrow Episode, The History/Future of Moira
by Jim Halterman at . Comments
First Stephen Amell teased tonight's flashback-heavy Arrow episode and praised co-star Susanna Thompson's performance.
Then, John Barrowman previewed what we may see over the next few weeks between his Malcolm Merlyn and Thompson's Moira.
So, who better to talk to next than Susanna Thompson herself? I jumped on the phone with her late last week to find out what's we can expect on "The Undertaking" and the rest of Season 1. Scroll down for excerpts from our Q&A...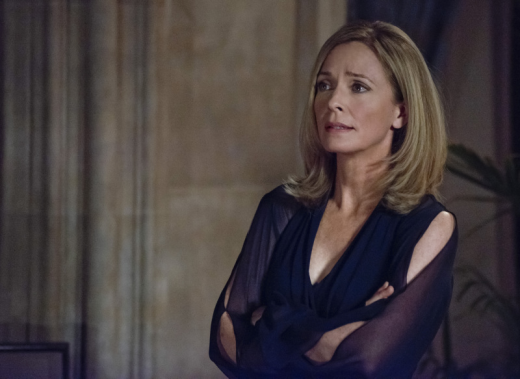 TV Fanatic: I saw Stephen Amell recently and he brought your name up and said how great you were in "The Undertaking."
Susanna Thompson: Oh, that's so nice. That's really nice of him. It's been intense this next episode. This is the one that Michael Schultz directed. Yes, you see a lot of perhaps what motivates the present day Moira. We see a history of relationships between her and her dead husband, with Walter, with Malcolm. You see the history of the adults and then you see bits of the history of the children of these people.
And it's interesting because you start to see some of its deals and the reasons why certain deals were being made, even back then. And then the ramifications of these sort of wheels that are set in motion has a fear or  panic and regret or guilt, and now you fast forward to where we are present day, and you see how big the mess has gotten…so now you flash forward and now we're finally getting a chance to explore and live out some of that back story. And it's even more intricate and, to me, more profound.
TVF: What is Moira and Oliver's relationship like in these flashbacks? I know he's a very different character back then...
ST: I love it because he's sort of, in his bones, has reservations about different aspects of taking off on the boat with his father, and I think she doesn't know how to pinpoint why she doesn't like the idea of it but he's such a charmer, this old Oliver, and I think he's always been able to charm his mother. I think early on in the season we had an episode where she confided in him that she missed her son, that they've always had a connection.
And I think there's an opportunity to see that they did have a connection. But he can just smile at her and win her over, the two of them. And what's really wonderful is that when you've got Jamey and Stephen side by side, playing father and son, both charming, you see how far the apple fell from that tree! She really has no power because of that. She's won over by both of them. But she does have to have a say.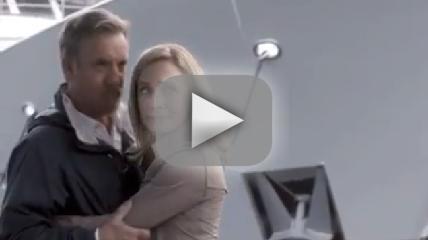 TVF: What will we see with Moira and Malcolm because I've loved all those scenes you guys have had all season, this kind of cat and mouse game that's going on.
ST: You'll see more of that. You will also see a friendship. You'll see a definite friendship. I think then that she's really charmed at that point in her life. And I think she is living a very fortunate life at that point in her life. And she's maintaining it, and she's sort of a hostess of all of it. You know she's the one meeting and greeting and creating and taking a back seat. But she is very gracious in that role, and I think she charms with it as well, and you'll see a friendship between she and Malcolm.

TVF: Will we see Moira in a life and death situation in these last episodes?
ST: Yes. I think whenever Moira finds herself in the presence of Malcolm, I think she's always in a life or death situation. Absolutely.

TVF: Provided Moira makes it to season two, what would you like to see with her with more episodes?
ST: I would like to see is a long list of understanding what motivates her and then in this whole first season and I think we will get to see some of that as the season ends. It certainly in this next episode you'll see some of that. But I know that they talk of 'how does one so intricately evolve in such a dire situation? How does one redeem themselves if that's the core? And who are they at their core? And how does one explore that redemption? And that's an interesting topic.

But above and beyond that, I've always been very curious about exploring her in the environment of the very wealthy, and so far where I've had to explore it is within her home and in the office. And then it's such a large world out there and I'd like to see her living in the money that she has. It's certainly not a world that I live in so I think it would be fascinating to see that.

TVF:  I saw somewhere that you're trained in combat. So I was curious, do the producers know that, so they can maybe have you kick some ass in one of these episodes?
ST: That's my husband's wish! Yes, I've talked with James Bamford [Arrow's fight coordinator] and J.J. Makaro [stunt coordinator] all the time because my husband is a fifth degree black belt and has been teaching for 30-something years. And I have trained with him in the children's classes and the adult class years ago. And I still know how to roll and that sort of thing…I certainly know how to take stage falls and I know how to work with a fight choreographer to make it look real. So, no I don't know that they've ever thought about Moira as a super hero type, so who knows?

TVF: I think that'd be great.
ST: I think that would be fantastic.

TVF: Lastly, how do you think Stephen Amell's handled kind of the weight of being the lead of this show this season?
ST: Fabulously. I think as a young man, he is wise beyond his years. He's got a wonderful sort of balanced quality of understanding. He's had moments when surprising things have come at him and he'll take the hit and he'll bounce back with a sense of understanding and wisdom in regards to it, and then he moves on. And he speaks his mind. He speaks the truth, and he's gracious. He has glow. He greets everyone you know, but asks the important questions and brings points to the surface that need to be addressed. And no I think he's been a fine leader this season.

Jim Halterman is the West Coast Editor of TV Fanatic and the owner of JimHalterman.com. Follow him on Twitter.

Tags: Exclusives, Interviews, Arrow, Susanna Thompson