"The Sky's the Limit" brought Kelly Hu into the Warehouse 13 mix to help Artie cope with the evil he unleashed.
Artie is still very shaken over Leena's death and his cause in all of it - and he's been on a flight rather than fight path as a result.
Artie has only ever wanted to protect those closest to him and for him end up the cause of the greatest pain possible is prompting him to make up for lost time.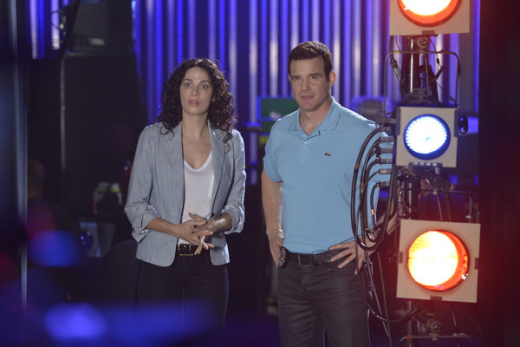 Hu's Abigail offered a great injection of life into the Warehouse. Artie needs someone new and impartial to help him break out of his funk and Abigail might be just the person. She's willing to go toe to toe with him without pandering to him, but Abigail also wants to explain and help Artie along with emotional connections and bonds.

Abigail knows exactly what Artie is going through. She wants to share those experiences, or at the very least those emotions, with him to help recover from the Astrolabe debacle. Abigail is right: if Artie doesn't work through those emotions they are going to eat him alive.

Claudia might have pulled Artie out of his emotional prison inside his head, but he didn't know then - and he doesn't know now - how to deal with his actions.

Elsewhere, Claudia and Steve's horse racing adventures started off fun and exciting (as they always are, those two could read banal tweets all day and I would love it), but the adventure quickly turned when Charlotte from the midseason premiere sent a text message with Claudia's picture stating "this is your target."

Mrs. Frederick is interested in Claudia being the next guardian of the Warehouse and the aforementioned episode hinted that Claudia just has a gut feeling about how certain artifacts might work out. Could Charlotte want a piece of the artifact action? She was very upset when Sutton took her ring, so she's is - at the very least - tracking Warehouse agents who might have it.

Finally, Warehouse 13 has been renewed for a fifth and final season consisting of six episodes. I'm sad to see the show being renewed and cancelled all in one order, as the Warehouse has been a summer staple of mine for years now, but I do have faith that the series will go out the way it wants to.

Nick McHatton is a TV Fanatic Staff Writer. Follow him on Twitter.

Tags: Warehouse 13, Reviews