Are you ready to go Under The Dome?
The 13-episode series, based on the best-selling Stephen King novel, kicks off Monday on CBS and explores what happens when a mysterious dome envelopes the small town of Chester's Mill... with no way in or out.
With no explanation about why the dome has appeared, the residents of the town must deal with life isolated from the rest of the world.
Starring Dean Norris (Breaking Bad), Mike Vogel (Bates Motel), Rachelle Lefevre (A Gifted Man) and Britt Robertson (Secret Circle) - and with King serving as an Executive Producer along with Lost producers Brian K. Vaughan and Jack Bender - viewers should be on the edge of their sears all summer long.
To get a window into this new, mysterious world, I grabbed a chat last week with Vogel, who plays stranger-to-town Dale "Barbie" Barbara, and who shared as much he could about what we'll find Under The Dome...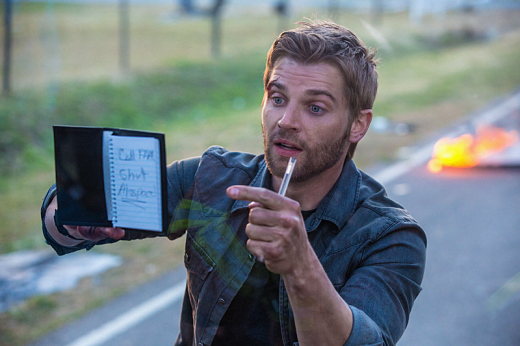 TV Fanatic: Tell me your reaction when you first read the script because just the kind of concept of it is pretty amazing in itself, but then I'm guessing that script kind of blew you away.
Mike Vogel: The script was fantastic and the great thing is it's been a very collaborative effort on all parts, to allow the actors to have a voice in their character. And I think with me, for Barbie, the interesting thing...I have a lot of friends that are in or come from that special forces community and the exciting thing of having a guy stuck inside a fishbowl like this with the skills that he has was a very frightening proposition.
TVF: It's definitely a little ambivalent in the start whether Barbie is on the good side of things or maybe the not so good. As an actor, did you kind of need to know going in like what this guy's whole story was or do you like maybe not knowing?
MV: I like knowing and I like not knowing. I need to know enough to know what direction point it is and I also like walking...the thing to me that's the death of an actor is middle of the road syndrome. Just cutting something vanilla right down the middle of the road, that's boring for me. I think Barbie is very much black and white, but black and white according to him, wrong and right according to him. And he can be particularly violent and not. He can be very levelheaded depending upon circumstances.
What I like about the show, and as you see in the pilot, things are not necessarily what they seem…as time goes on, you start seeing the true colors of these people come out and what you thought to be true is not necessarily the case. I think a lot of that is also attributed to Brian (Vaughan, who developed the series) came on and Jack Bender (Executive Producer) and their experiences with Lost, much to our frustration sometimes, from episode to episode we're kept in the dark a lot and literally told our storyline only and even with that, just snippets of it so that we, again, point it in a direction, but they keep that mystery going even among us.
TVF: Barbie seems like he has heroic qualities and I'm curious how quickly will we find out his backstory? Or will it be parceled out over the season?
MV: It's kind of a mix. Several episodes in you'll get some more light shed on what makes him tick and some of the skeletons he's got in his closet. But the skeletons keep coming and they keep rearing their ugly head, and certainly dealing with some demons of his military past.
It's a very real thing and I have many friends who suffer from it, but we've all seen the PTSD story and sort of the real broken soldier and it's not at all the angle that we took on this. However, [Barbie] definitely has some stuff that we'll find out several episodes in that has changed him and that is sort of the driving force towards almost his vendetta to make things right.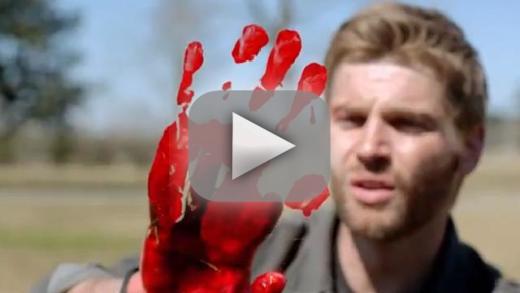 TVF: Barbie's initially doesn't seem interested in forging relationships with his people but does he start creating some relationships in town, whether they're romantic or just friendships?
MV: Definitely. Barbie at a certain point has to come to grips with the idea that we are where we are. Of course, there'll be many attempts, as you'd expect, to figure out what this thing is, what are the textural pitfalls of it, can we get out, are there ways to get out. We explore all of those and then eventually coming to a resignation of 'okay, here I am, so how do I fit in this town?' You'll get to see lines in the sand drawn, and certainly romantic ones, and not romantic ones, and past romantic ones.

TVF: There seems to be tension between Junior (Alexander Koch) and yourself. Does that develop even more? I know Junior gets jealous when he sees Angie (Britt Robertson) talking to Barbie.
MV: To my knowledge, there's no direct correlation anymore, although for several episodes you'll definitely see the ramifications of Junior seeing that. He misinterprets it for some time, if that makes any sense. So there's sort of this little pissing contest between Junior and Barbie where Barbie's kind of clueless about if he even remembers this girl's name. And Junior, from what he saw, has already made up his mind of 'oh, I see what this guy's up to,' which, I think, plays to that young sort of immatureness in Junior.

TVF: Do you think it helps you guys making this show, which is about a very isolated space, shooting it in North Carolina?
MV: Oh, absolutely. It's so beautiful down here. I think the town has a great flavor and it's almost a character in and of itself in the show. I love the Carolinas and the South especially with the dripping moss hanging off the oaks and these real sweeping little towns that we're filming in. There's a lot of filming on farms, which, I mean, I have a field day with. I love being out on the farm. Really dense pine forests, lots of marshes, so it adds a great flavor, I think, to the show.

If they would just do something about the little no-see-ums that bug you incessantly, I'd be a happy man. I'm from Pennsylvania so I've never experienced it. I mean, they're literally flying teeth with wings, about the size of a gnat.

TVF: Having seen your work in Pan Am and, most recently, Bates Motel, you were very clean cut in those shows. This one you're definitely scruffier. Which is Mike Vogel?
MV: [laughs] I love being scruffy. I'm a plumber's son from Philadelphia and the matters in cleanliness sometimes fall by the wayside when you're digging a sewer. And what I loved about Bates, while [Deputy Shelby] was clean cut on the outside, the guy was very dirty inside. There's varying degrees of that and I think that's a fun thing I like to play with.

Under The Dome premieres Monday, July 24 at 10 p.m. on CBS.

Jim Halterman is the West Coast Editor of TV Fanatic and the owner of JimHalterman.com. Follow him on Twitter.

Tags: Exclusives, Interviews, Under the Dome