Much like "Vertigo," this "Can of Worms" had me wondering what I had just seen the minute the episode ended.
Royal Pains continues to struggle to find its groove, though it did provide us at least some increased clarity on at least one major plot point.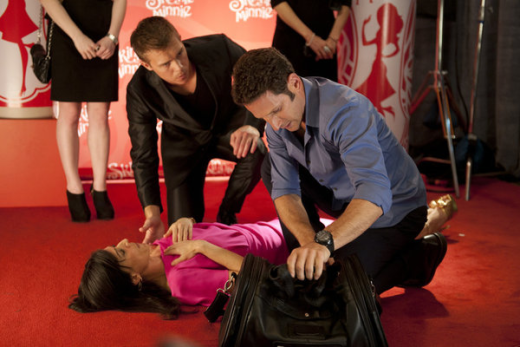 This week we were finally reminded - and had clearly explained to us - what exactly it is that Boris and Hank are up to. Apparently the intend to stage a fake medical trial in order to bait Milosh into coming to the states so he can be arrested for crimes he committed against Boris. Couldn't they have just said that to us in the first place.

They seem so nonchalant about the whole thing, as if rising from the dead in the midst of a dramatic death and the federal arrest of a relative is more normal than taking a trip to he grocery store. Then again, this is Boris we're talking about.

In other news, and perhaps in the most outrageously and statistically impossible way, a dissident at Evan's campaign rally became impaled with a very gaudy umbrella bearing Evan's image. First of all, who makes something like that? Second of all, did no one else find the way the man received his injury to be completely contrived? Maybe it was just me, but I simply didn't buy it. Then again, perhaps I'm just taking the whole thing too seriously?

One thing I did like is fact that Jeremiah reappeared this week after being conspicuously absent last installment. His purpose in this installment seemed to be to offer Divya a place to stay while her home is rid of extensive mold. I fear his character's only purpose besides acting as comic relief in the form of social awkwardness is starting to revolve more and more around Divya. While there's certainly nothing wrong with that to some extent, I also just liked seeing him attempt to navigate the spaces outside his comfort zone that veered more towards the social realm than the romantic. 

Then again, Jeremiah's such a nice guy. And since the writers put it out there that he's in love with Divya, how could you not want to see these two living together, with Jeremiah insistent on making sure Divya and her baby are well taken care of? It's unconventional enough that it really works in my mind!

Then there's that whole issue of Paige deciding she's not fit to be a campaign wife.That certainly puts a bit of a damper on Evan's Village Council ambitions. Perhaps she should have saved a few smiles and waves from her father's time on the campaign trail and saved them for Evan? I'm sure he'll continue to pursue the thing wholeheartedly, especially since they still need to acquire the proper zoning licenses. 

So while much seems to still be unfolding in the world of Royal Pains, so do the opportunities for doing better increase.

C. Charles is a TV Fanatic Staff Writer. Follow her on Twitter.

Tags: Royal Pains, Reviews
Want more Royal Pains?
Sign up for our daily newsletter and receive the latest tv news delivered to your inbox for free!
More From TV Fanatic
Join us for the rewatch of One Tree Hill Season 1 Episode 3. Ready to rundown this fun installment?
This week on The Last Ship, Danny gets sick and the crew begins to panic. Is it the virus? Meanwhile, Rachel's vaccine trials continue to fail.
Who was able to successfully problem solve on The Rachael Ray Show this week? Find out now in our review of Food Network Star.
The Masons are reunited on Falling Skies Season 4 Episode 6. Will it be a happy or contentious reunion?
---