FINALLY. 
After what felt like the longest hiatus in history, Castle Season 6 kicked off with ""Valkyrie," an intense episode that didn't waste any time in producing the answer fans have been waiting an entire summer for.
Let's dig right in, shall we?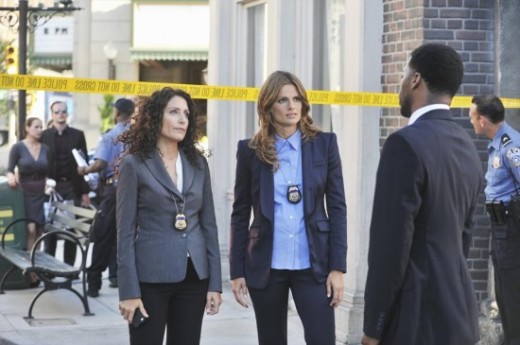 Castle Season 5, of course, concluded with Kate having the opportunity to head to D.C. for a dream job, while Castle placed his heart directly on his sleeve and proposed on that romantic swing set. So... what happened?
Following some hilarious back-and-forth about whether or not Castle is somehow breaking up with her, Beckett said YES! In case you are still processing it: Richard Castle and Kate Beckett are engaged! He put a rock on it! For real! Okay, back to the episode...
After six weeks of not seeing each other, Beckett is relocated to D.C. and Castle is returning from a book tour, popping in to surprise his gorgeous fiancée. Of course, he's unable to keep his head out of her case and, after getting her in trouble and getting abducted by a criminal, he returns home.
But little did Castle know he was coming home with a toxin that killed the man Beckett and company were on the hunt for. That's always awkward. Awkward and quite dangerous, that is.
In true Castle fashion, the twists and turns left us with a big "To Be Continued," as Castle supposedly has less than a day to live. What will happen to our favorite detective? We know he can't die. But will he get sick? Will this cause a problem for him and Beckett?
Sound off the comments with your theories and consider the following Castle Season 6 premiere notes:
Great to see the boys back in action! You have to love scenes with Ryan, Espo, and Castle.
How about Alexis' boyfriend? This isn't going to work out too well for dear old Dad.
First episode in and already no Lanie? Not cool.
Looks like Kate is doing just as well at her new job. But something has to happen. We want her back in NYC ASAP.
Who likes Lisa Edelstein as Beckett's new partner? If you ask me, I prefer Ryan and Espo, and most importantly, Castle, any day.
What predictions do you have for the season? Will Kate return to New York? Will she and Castle really get married? Will they break up because of the distance?

Hit up the comments section and let us know what you thought of "Valkyrie." Was it what you expected for the first episode or was it a bit of a letdown?

Tags: Castle, Reviews
Want more Castle?
Sign up for our daily newsletter and receive the latest tv news delivered to your inbox for free!
More From TV Fanatic
This week on The Last Ship, Danny gets sick and the crew begins to panic. Is it the virus? Meanwhile, Rachel's vaccine trials continue to fail.
Who was able to successfully problem solve on The Rachael Ray Show this week? Find out now in our review of Food Network Star.
The Masons are reunited on Falling Skies Season 4 Episode 6. Will it be a happy or contentious reunion?
What took place on The Real Housewives of New Jersey Review this week? Read our rundown to find out!
---