Jim's Notebook: Lisa Kudrow on Scandal, Changes to Beauty and the Beast and More!
by Jim Halterman at . Comments
After spending last week in Hawaii at the beach-side premiere of Hawaii Five-0 (check out my red carpet interviews here), I'm off to Vancouver for set visits to Arrow, Supernatural, Once Upon A Time, Rogue and new shows The Tomorrow People, The 100, Almost Human and Once Upon A Time: Wonderland.
It'll be a very busy week, but you can Follow me and TV Fanatic on Twitter for multiple visit pics and scoop.
Before leaving, though, I made sure to clear out my Notebook with tantalizing nuggets on on Scandal, Beauty and the Beast and Masters of Sex. Ready? Let's go!
SCANDAL The Scandal Season 3 premiere does not disappoint and I grabbed some time with Katie Lowes (Quinn Perkins) to find out if she's had the chance to work with upcoming guest star Lisa Kudrow yet. She said she's filmed scenes with the Web Therapy star and added: "She's amazing, she's amazing. She has been around the Pope and Associates team. I think she's been with everybody actually."
Lowes admitted to having seen every episode of Friends "backwards and forwards" and said that she couldn't hold her excitement once she knew the former Phoebe Buffay was on set: "I just knocked on her trailer. I was all, like, ballsy, and just knocked on her trailer, I wanted to introduce myself to her, and basically just be, like, ga-ga, goo-goo, over her even being around."
Lowes also said that Kudrow may have been surprised by the quickfire dialogue that's a staple of the Shonda Rhimes drama but "she is kicking butt and she brings such amazing stuff to this role, because of her comedy chops, and because of who she is, and the experiences she's had. Just amazing."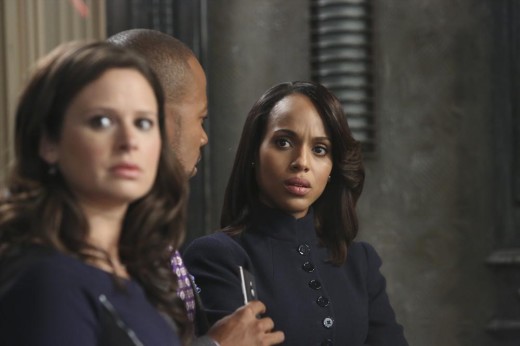 MASTERS OF SEX: If you saw last night's premiere of the period drama on Showtime, you may have noticed that Michael Sheen's Dr. William Masters is a tad closed off emotionally, so I had to ask the actor if we'll find out why he is the way he is. "We see his mother. We do see some flashbacks…the first time we see a flashback, it's very revealing." He said we'll also see these characters in the show's present, teasing "we start to get a sense of filling in a lot more about him, which is great, because I didn't want to force him into having to do certain things or have certain things happen to him in order to reveal certain things for an audience so that they understood a bit more."

Sheen admitted that he did have some initial concerns about Masters' emotionally challenged character. "I've always known that the risk is that an audience won't like him, won't be interested in him, won't empathize, don't find him compelling," he said. "What's useful is you've got lots of other characters as well that can take the weight of that and slowly, as time goes on, the relationship with that character becomes, hopefully, more powerful, more layered, more complex, and more meaningful, I hope." (Masters of Sex airs Sundays at 10 p.m. on Showtime; read the rest of my Sheen interview here.)

BEAUTY AND THE BEAST: We've still got a week before the Beauty and the Beast Season 2 premiere, but you'll notice something missing from Vincent when we next see him: the scar on his face. The show explains what happened in the first episode back but new showrunner Brad Kern told me that there were lots of conversations about losing the scar for good: "Practically there were some production issues because it does take time to put on the scar, it does take time to take off the scar, and [Jay Ryan's] skin didn't like the scar that much all the time."

There is also a creative and aesthetic reason to lose the scar, Kern explained: "We wanted a very super charged Vincent and open the door to mythology that we're just beginning to talk about at the beginning of the season. We wanted Cat to notice right away that he's different and we wanted the audience to know right away that something's different then that becomes a mystery to be solved."

The scar may be gone but, thankfully, Sendhil Ramamurthy's Gabe is not. No spoilers in how he cheats death in the season premiere but Kern teased: "There's definitely a romance in store for Gabe in the course of the season." As for saving Gabe's life, Kern said it wasn't easy. "When I was hired they showed me the season finale and he was shot 19 times in the chest. I said, 'So isn't that a challenge!?'" Kern also said that Gabe will spend of his time during season 2 trying to make amends to Cat for what he had a hand in last season. (Beauty and the Beast kicks off Season 2 on October 7 at 9/8 on The CW.)

Jim Halterman is the West Coast Editor of TV Fanatic and the owner of JimHalterman.com. Follow him on Twitter.

Tags: Scandal, Beauty and the Beast, Masters of Sex, Spoilers, Jim's Notebook