Scandal Scoop: Katie Lowes on Season 3, A "Different Quinn" and OMG Moments Galore
by Jim Halterman at . Comments
Of all the returning shows we've been dying to have back, is there one with more anticipation than ABC's Scandal?
When we last left our Gladiators, Olivia Pope was outed as the mistress to President Grant, while also also coming face-to-face with her seemingly diabolical father; was put in confinement (as ordered by Liv's Dad!) in a hole in the floor; and, of course, Huck was horrified as he realized his training of Quinn Perkins had gone a little too well.
Katie Lowes jumped on the phone with me last week to talk about a different Quinn on Scandal Season 3, why she thinks maybe creator Shonda Rhimes has the actors' makeup trailer bugged and how her social media skills have changed since Scandal came into her life...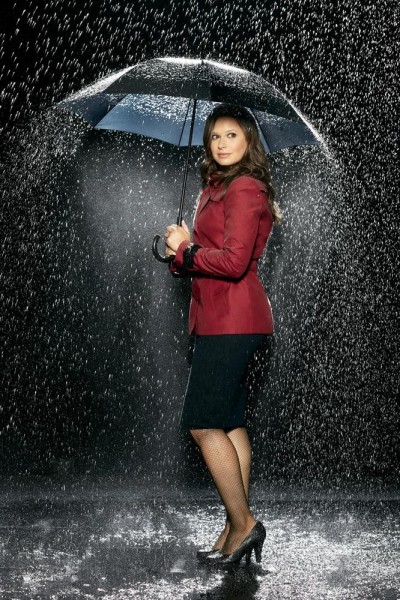 TV Fanatic: When we meet Quinn in the new season, is she a different Quinn, or has she changed, because she definitely had a hell-of-a season finale there?
Katie Lowes: The show picks up pretty close to where we left you guys off and Shonda has gone on…and so it's not like we come back years later, and Quinn is a spy killer. But, yes, she is definitely a different Quinn. She has definitely been through an experience that, I think, we can safely say that no one really goes through and that she definitely liked it, and I think that that is really where you find her. She's just grappling with a lot of conflict and it's really affecting her relationship with everyone in the office, especially Huck.
TVF: Is she feeling any guilt over what's happened or is she still kind of riding that high that we saw her experience?
KL: You know, I think Quinn is a really smart person and I think it's a little bit of both. I think she definitely knows that she likes something that probably you shouldn't like and that this isn't normal, but at the same time, she's surrounded by abnormalcy. She's surrounded by people who aren't normal.
It goes back to her being the newbie. It goes back to her thinking 'is this the way I'm supposed to be? Is this not the way I'm supposed to be? It feels good to finally fit in somewhere and be good at something and hopefully make Huck proud, but is this completely crazy? And now am I a psycho?'
TVF: In the first episode back, are most of your scenes with Guillermo or are you kind of mixed up with everybody?
KL: It's a lot of everybody. There's a lot of gladiating going on as we left you guys off in the finale with the whole Dad-moment and the world falling down on not only Olivia Pope's shoulders, but we are such an extension of Olivia Pope that it falls down around Olivia Pope & Associates. I mean, how does Olivia Pope & Associates survive when the person's name who's on the door is being named the mistress of the President?
So there's a lot of gladiating going on. Quinn has scenes with everyone, and then she definitely has a lot of Huckleberry-Quinn awesomeness. Which makes me really happy.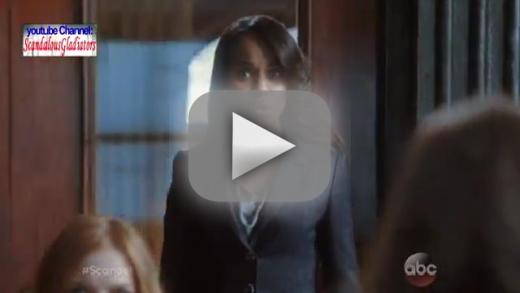 TVF: How does Olivia handle the fact that the firm is in an uproar because of her life now? Is she handling it well, is she leaning on you guys, or is she still trying to be the one in charge?

KL: Obviously, this is definitely the biggest personal scandal that we have dealt with at Pope & Associates, but we have dealt with election rigging, which I think is pretty high up there. At least for Quinn, Olivia deals with things, and she handles things her own way, and I don't really think she leans on anyone really. That's just not who she is and what she's made of, even though this is such a bigger thing than we've ever seen.

The exciting thing is, it's not so much in that how you'll see how Olivia deals with the Gladiators differently, but you are going to be learning and knowing things about Olivia Pope that you never knew before. It's so awesome. What's so great about this season, and what's so great about the premiere episode, is that there is still so much work to do. I mean, it's such a kind of awesome place to be in that we had this amazing second season where the momentum is building and it's this show where people are talking about it on Friday mornings and everyone has their conspiracy theories of what's really going on.

Coming back to the first table read for season three, it's like how do you stay there? How do you keep the excitement? Then we read the first script, and you realize, 'Oh my gosh! We don't know anything about Olivia Pope, as well as other characters on the show.' How exciting that Shonda Rhimes has been able to write a show for this many episodes and there's still so much uncovering to do and there's so many backgrounds with different characters on the show that we have yet to dive into.

TVF: Yeah, we don't know Harrison at all, outside of what he's done in the office…

KL: Harrison at all, there's still a lot with Abby that we don't know a lot about, and Olivia Pope, you know, there's a lot, and even Fitz, Mellie...we don't know why people are the way they are and it's so exciting, but you will be getting so many answers to all of those  things.

TVF: Would you say, in this first episode, we get some of those big oh-my-God moments that we're used to getting from Scandal?

KL: Yeah.

TVF: A simple yes, she said.

KL: You do. When I read the premiere, when we sat down to the table read, I turned over…I don't know who I was sitting next to, I usually am sitting with Guillermo, and maybe I was next to Dan Bucatinsky or something...but I definitely looked at him, and I said, 'does this seem like a finale to anybody else?' I mean, that's how…it's not like we did that finale last season and then where we pick up is sort of, like, back down 10 notches in order to bring us back up again. I mean, we start out and have the same exact high-stakes, high-intensity, a million Twitter blowup moments that we left you with.

TVF: What kind of conversations do you have with Shonda about the direction for Quinn this season? Do you have big conversations about that or are you just kind of waiting to see the scripts come in?

KL: Basically, we get the script at the read-through and we've all never read it before. It's so fun, insanely fun, because since it's the first time we're reading it, we are screaming and picking up our jaws off the ground, and can't believe what we get to do. Then, basically, after the table read, we have about 24 to 36 hours to e-mail Shonda or call her with any thoughts, ideas, questions, things like that that we have.

For Quinn, once we did the 'who is Quinn Perkins?' [story], I was, like, 'oh my gosh, I'm just so on this ride. Whatever Shonda Rhimes and the brilliant Scandal writers come up with is five hundred million times better than anything I could ever think of.' So I just go in with the utmost trust and try to live up to their writing as best as I can. Mostly, for me, when I have conversations with her, or the writers, it's questions, really. 'Is this coming down the pipeline…?' and then they don't, like, tell me.

A big joke is that the makeup trailer…were bugged or something, because anything you say that you don't want to do, or something that excites you that you want to do always ends up being in there. It's totally fascinating, and I just feel like Shonda Rhimes has zeroed in on each of us as people and a lot of our most private thoughts and insecurities. She just really knows where to go.

TVF: With social media, how much of your skills have changed in the last year or two, because it's such a big part of the show?

KL: Honey, it's amazing. I mean, I didn't even have a Facebook page when I started Scandal. I didn't know or care about Twitter. I didn't know or care about Facebook, or Tumblr, or Instagram, or any of these things, and when we got asked by Shonda to join Twitter, it was just like a crash course. 'Okay, let's do this. It's part of the job.'

And now, I'm so grateful, I can't even tell you. I mean, I just think it is such a powerful tool. I think it's changed the face and the success of our show, and I think it makes people excited to watch it on time on Thursday night, because it's an event, it's like a party…to be on there and read what everyone's watching, and reading, and reacting to so, yeah, it's a huge part of my daily life. It's part of the job, now, and it's a part of the job that I actually really like.

I think it's really important to take breaks, and go away, and turn off your phone. For example, if I'm on a date night with my husband, it's like, 'okay, we need to leave our phones at home,' and on vacation and things like that. But other than that, it is a serious part of my daily life. Now I think about things in the form of the Twitter, like, we'll be on set, and I'm, like, 'how can I take this really weird picture, and tease the fans, and lead them down like a really weird path.

We are going to be in New York next week, for press, a bunch of us, and we are all going to be live tweeting our butts off come Thursday, October 3, all coasts, all time zones, all in.

Scandal airs a recap episode at 8 tonight and then the season premiere airs at 10.

Jim Halterman is the West Coast Editor of TV Fanatic and the owner of JimHalterman.com. Follow him on Twitter.

Tags: Exclusives, Interviews, Scandal, Katie Lowes