Last year, the Parks and Recreation crew started the season by heading to Washington D.C. We got a great cameo by Joe Biden out of it.
This year, the gang headed to "London, Part 1 & 2" where we got Heidi Klum in a sweet role playing Leslie's parallel universe respected government official and Henry Winkler playing against Tom and competing for the tween market. But the thing is, that woman couldn't possibly be like Leslie!
Because one of the best parts about Leslie is her resilience and willingness to do what's best for all involved, even if there is resistance; hence the theme of everything Parks and Recreation, and why I love this show so deeply.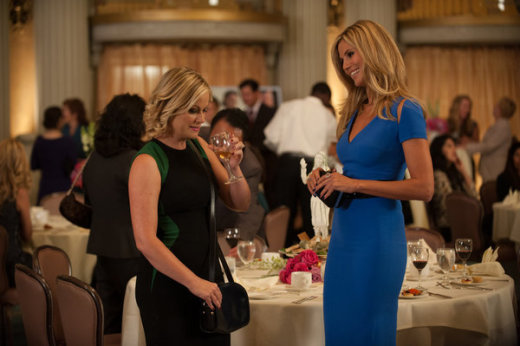 Leslie's heart is an unstoppable force and even if she's down for a minute, the relationships she's created bring her up.

April nominating Leslie was another great character moment for her. Her growth and maturity throughout this series is marked. Although one question: what's happening with veterinary school? I was under the impression that her and Andy would be apart again this season because she'd have to travel for school, but there was no mention of it in tonight's premiere. But no matter. On to the next.

The best part of the opener for me was Ron's quickie wedding and all the lines in the episode where he rags on England. And the last moments where he finds the beauty in Scotland. Ron Swanson and Leslie Knope's relationship is so consistently special. It never feels old - the mileage that this series gets out of these two being polar opposites in politics, but equally warm-hearted, is one of my favorite aspects of the series.

On a side note, the end of the episode in Scotland was gorgeously shot. And I'm willing to wager Nick Offerman was beyond thrilled to see this distillery.

As for the rest, I love seeing Ann happy and with Chris. Chris really livens up Ann as a character and the two of them together are sweet. I would imagine their happiness will continue and that will be what leads to them leaving in the middle of the season, as reported this summer.

Poor Tommy Haverford. Even with Jean Ralphio-Saperstein and his sister Mona Lisa admitting to lying about their utter failures in life, their father is still going to take Tom and his store "Rent-a-Swag" down. Winkler was as nasty as we've ever seen him. But he's a lovely doctor for Ann and Chris.

I'm thrilled to have the Parks and Recreation gang back. And I'm saying it now: Leslie and Ben discussing travel at the end of this episode is a major foreshadowing anvil. Hopefully we'll get more great trips in the future.

Cheers to a full order of season 6 episodes!

Tags: Parks and Recreation, Reviews