Coming off a rocky summer season, Royal Pains certainly featured its ups, down and all-arounds.
From plot lines the series could have gone without to others that left viewers confounded, let's take a look back at the pros and cons of Royal Pains Season 5... TV Fanatic Report Card style!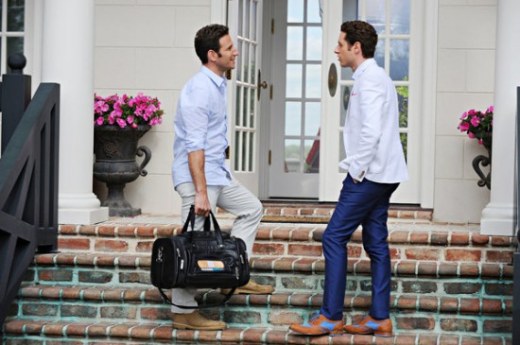 Best Episode: Tie between the season premiere "Hankwatch" and the season finale "Bones to Pick." Royal Pains started off strong and ended strong as well. From the main plot line setups to their apparent conclusions - or at least their temporary states going into season 6 - all was well that ended well. If only we could have drawn a straight line from beginning to end and avoided all the detours!

Worst Plot Line: While I really enjoyed "Hammertime" and the orchestrated auction, I really disliked - and still fail to see the purpose of - the relationship between Milos and Boris and why we had to see it through to its very abrupt apparent resolution.

Most Character Growth: Jeremiah, no question.  As I mentioned in my review of "Bones to Pick," it was a nice move by the writers to have taken time exploring Jeremiah's personality and watch him grow into the more confident person he was at the end of season 5. Otherwise, I would not have believed Hank handing the practice over to Jeremiah in his absence.

Best Hamptons Outting: Didn't actually take place in the Hamptons, but all the way in Tuscany, when Evan and Divya crossed the pond to visit Divya's mother and her new beau. Too bad Evan thought it was a birthday surprise.

Least Likely Medical Injury: I know I couldn't have been the only one who looked at the screen cross-eyed when the lone naysayer at one of Evan's first campaign events was impaled by a lawn umbrella. The chances of that ever happening have to be between zero and never.

Hopes for Season 6: More exploration of the relationship between Jeremiah and Divya; the birth of her baby; more compelling, uninterrupted story lines; a less whiny and juvenile Evan.

Overall Grade: C.

Now it's YOUR turn, TV Fanatics: What grade would you give Royal Pains Season 5?

C. Charles is a TV Fanatic Staff Writer. Follow her on Twitter.

Tags: Royal Pains, TV Fanatic Report Cards
Want more Royal Pains?
Sign up for our daily newsletter and receive the latest tv news delivered to your inbox for free!
More From TV Fanatic
You can watch Royal Pains Season 6 Episode 5 online. Sit back and do it here.
On Royal Pains, Evan, Paige and Bob confront Russel about his rug theft, while Divya and Jeremiah treat a woman desiring to be a mom. But were those all the surprises the Hamptons had to offer?
Which returning summer show is your favorite? Go ahead and vote now, TV Fanatics!
Watch Royal Pains Season 6 Episode 7 online and find out what happened in the Hamptons this week. It was a fun episode.
---