The Simpsons Review: Homer the Terrorist
by Teresa Lopez at .
The Simpsons Season 25 opened with a spot-on parody of the popular drama Homeland.
Because most people were probably killing time until the Showtime drama's return, "Homerland" played off what fan's appreciate most about both Homeland and The Simpsons.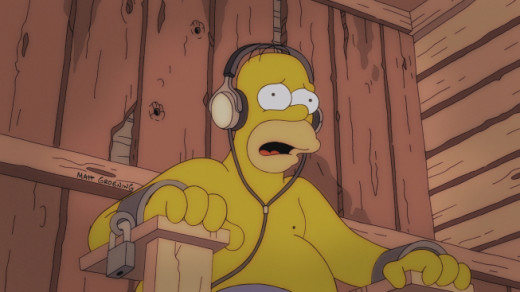 The Simpsons has always done an excellent job with parody, and tonight was no exception. First, the show opened with clever Springfield version of the Homeland opening, before creating the perfect amount of creepiness of Homer's change. His sudden abstinence from both pork and alcohol were one thing, but then he went and used a napkin. He exactly mirrored Brody's calm focus and it was quite amusing.

Even better was the inclusion of a Carrie Matheson clone who works for the FBI. The writers  captured everything that's frustrating about Carrie's character with their Annie Crawford. Unhinged and insecure, Agent Crawford hallucinates regularly, but still slips into the Simpsons' household and gets the information she needs (she didn't even have to torture or sleep with Homer!).

The half hour was a lot of fun and featured a lot of great sight gags and jokes. My favorite involved Homer's alcohol detox set to The Grateful Dead.

Homer: Oh, I've been listening to this son for three days and it's only the end of the first verse.

Check out  The Simpsons quotes for more laughs.

Tags: The Simpsons, Reviews
From Around the Web