Leah Pipes portrays Cami on The Originals.
But the actress herself admits that viewers have yet to really see this bartender/psychology student as a three-dimensional character. She's sort of been popping in and out of scenes over the first three episodes… but all that changes tonight.
Previewing "Girl in New Orleans," Pipes told me over the phone that fans will "learn a lot more about Cami," and not just about Cami, either.
"You finally get to see parts of Cami and Davina as real people," she said. "They establish a bit of a friendship as they go about figuring out their own powers."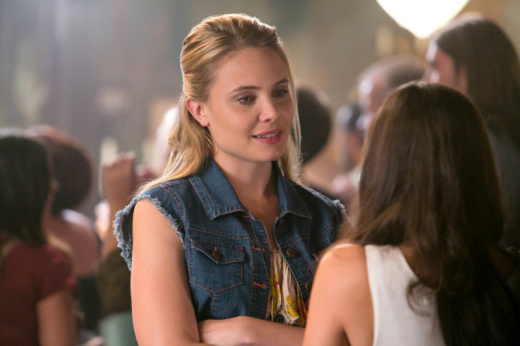 Their powers?!? Of the supernatural variety? Not quite, Pipes said.

"You'll see Cami's power of love and forgiveness," she teased, emphasizing these important human traits and refusing to reveal too many details about Marcel's crush... but acknowledging that "Cami's past is revealed."

She also says her favorite scene to film so far takes place on the episode. It will feature her acting opposite Joseph Morgan as Klaus, which is always a pleasure for the star.

"You know you're working with a talented actor when a scene is really easy for you," Pipes says. "You just listen and follow whatever genius thing they're doing and they make you look good."

Pipes, of course, joined what she describes as a "tight-knit" family of actors and actresses who know each other from The Vampire Diaries when the came on board this spinoff. But she says she's yet to experience any hazing from Morgan and company - though she knows what they could do if they really wanna torture her.

"I'm jealous of the flashbacks," Pipes laughed. "But then I see Claire Holt in hair and makeup for two hours, wearing a tight dress all day, and that jealousy goes away."

Pipes added that she's a "huge, huge fan of Game of Thrones," Aria in particular, and that her lack of a television made it hard for her to originally watch The Vampire Diaries. But once she landed this role, she caught up on all four seasons in a week and it became a "14-year old girl's obsession for her."

(Editor's Note: Or a 33-year old guy's obsession, Leah. There's nothing wrong with that.)

Hesitant to uncork any major Originals spoilers, the actress concluded by saying she's taken aback each time she reads a new script.

"I say 'Oh, no way!' at least once," she says.

Matt Richenthal is the Editor in Chief of TV Fanatic. Follow him on Twitter and on Google+.

Tags: Exclusives, Interviews, The Originals