I knew the streak couldn't quite last forever.
Even though "Gin It Up!" was great fun and feature Tatiana Maslany from Orphan Black, I couldn't help but feel this may have been the weakest Parks and Recreation Season 6 episode to date.
The Donna and Leslie feud seemed a bit forced and the rest of the half hour didn't seem to push anything forward.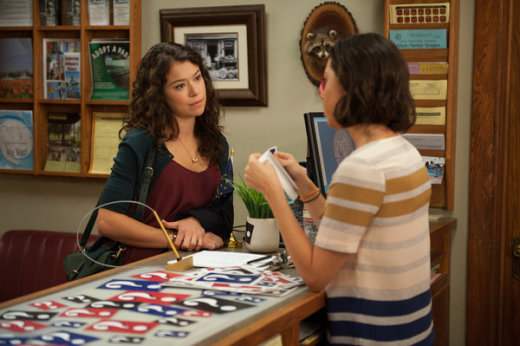 Parks and Recreation department player of the week? I'm going to go with Chris.

His Parks and Recreation quotes were perfect and even though Leslie typically goes to Ron for any sage advice, I really enjoyed Chris's endless positivity and realistic perspective about Leslie as a boss and her high expectations for her employees.

As for Maslany's guest appearance? I love, love, love her in Orphan Black and enjoyed her in Parks and Recreation, but I don't like when guest stars come in as romantic interests because they never stick around. I know Tom isn't going to end up with Nadia. She's got to go off and be a clone on her other series. Even though Diane (Lucy Lawless) ended up marrying Ron and she's a guest star, I still can't suspend my disbelief that Maslany will be sticking around. Especially since she's so far out of Tom's league.

It was nice to see Ben and Ron bond over Ron's will, but this Ron experience seemed so similar to the lesson he already learned when he tried to go off the grid. He's got a family now; he's got to think like a family man. Regardless, Ron's one-liners never cease to amaze me. He is the most well-developed comedic character on television.

Overall, not bad. Putting Tom and April together worked for me. But overall  this episode seemed a bit disjointed. Having said that, even a disjointed Parks and Rec episode beats basically any other comedy on television.

Tags: Parks and Recreation, Reviews