White Collar fans were forced to wait a painfully long time for the return of this USA Network hit.
But their patience was rewarded by an opener that actually trumped the stakes set up at the end of White Collar Season 4.
In the installments to follow, we may very well find ourselves asking  "At What Price" did Neal really manage to exonerate Peter. And, for now, it's an intriguing question to ponder.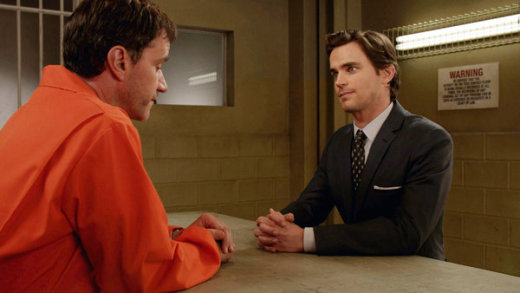 I know it's only the first episode, but I'm sensing some serious backdraft coming down the line as a result of Neal's decision to forge that confession. Surprisingly, I don't even think it will be from the agency's end, but rather from Hagan or others who become privy to Neal's potentially toxic deal.

If Peter ever does make it to DC, the consequences would be catastrophic. It's all a matter of how dramatic creator Jeff Eastin and company want to go with this one.

Part of me can't wait to see that all come down, as I wonder what Peter's reaction will truly look like. They've come back from a lot, but could this potential indiscretion be that one thing that tears an irreconcilable rift in this relationship?

It's definitely too early to tell, and probably way too early to truly worry about it, but when something this big happens early on, you can only wonder how much higher the stakes will have to rise in comparison.

What I really loved about this episode were the great Mozzie moments we got out of it. From his not-so-unrealistic stint as a conspiracy theorist trying not to appear as one... to the brilliant baby carriage move... it brought a smile to my face like only the quirky man with a plan can do.

One thing that did have me scratching my head a little bit was Diana's sudden pregnancy. I appreciate when writers do their best to work life into the script, but that one definitely surprised me. They could have run a few episodes with Diana conspicuously seated or standing behind tables, etc. a la Bones when Emily Deschanel was pregnant several seasons ago.

Regardless, White Collar has certainly set itself up for another great season and I can't wait to see what comes next!

What was your favorite part of the White Collar Season 5 premiere?

C. Charles is a TV Fanatic Staff Writer. Follow her on Twitter.

Tags: White Collar, Reviews