Well done,Parks and Recreation!
Returning with a strong episode after a mini-hiatus is always the ideal and Parks and Recreation Season 6 Episode 6 was one of those installment where every storyline was working.
And even though Leslie's filibuster was one of the most important parts of the half hour, I think it was April's speech to Andy that really made the installment for me. And did you see April's face when Andy came in? That was great acting true love.
The all important "fake it til you make it" lesson is one everyone needs to learn. And of course Andy doesn't know what he's doing! But it's always a relief to learn that everyone else not only learns on the job, but also makes things up as they go along.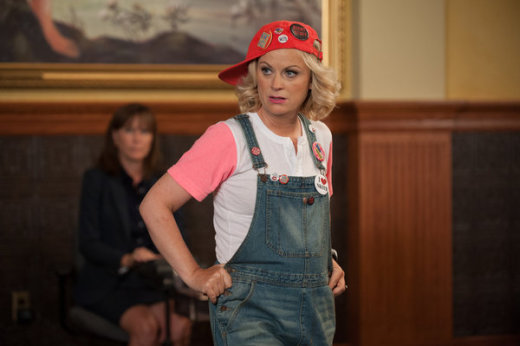 Tom and Nadia's relationship worked better for me here. The former asking the latter if she would see him after her stay in Rwanda was sweet. And she seemed to appreciate everything that Tom really is: silly, materialistic, but with a great heart. As for Leslie, well, she's my personal hero.

The evolution of her character from Parks and Recreation season 1 to now has been pretty incredible. She is still silly, but her drive to create a fair, democratic environment for her constituents is consistently admirable. 

Ron and Donna together? Priceless. I have no complaints about these two. In fact, I'd like to see them together more. Maybe Donna and Tom force Ron into a "Treat Yo'self" day of pampering. Watching Ron get a pedicure? Yes, please!

As much as tonight's first episode of Parks and Recreation was utterly triumphant (at least for democracy), Parks and Recreation Season 6 Episode 7 was devastating for Leslie Knope fans.

But the best thing about this show is that there are disappointments, rebounds and persistence. Even when Leslie is at her lowest point, we know that she'll bounce back. It's just who she is. Unfortunately, that didn't make her recall any less upsetting in the moment. There may have been some yelling at the television.

But go Ann! She's right. A husband can't do a best friend's job. And although Ann is not my favorite member of the Parks and Rec crew, she really forces Leslie to face facts and like a good friend, really

If I were to venture a guess as to where the sitcom might go from here, I'd say that Leslie's work in her last 30 days in office could really tun the voters around. She's nothing if not persuasive, charming and determined. I look forward to watching her turn her town around.

As for Tom's business, I'm sad to see it go! Although I'm sure that if Rent-a-Swag is gone, there will no doubt be some other even more exciting business idea to replace it. I look forward to hearing Tom brainstorm about new business ventures. And if he continues to rely on Ron, all the better!

It seems more and more to me that Chris and Ann's exit is impending. But at least I know I'm prepared for it. And I LITCHerally couldn't be happier for these two characters. Something happy needs to happen on this show. Poor April is separated from Andy, now Leslie is recalled. We could use some positivity in Pawnee.

I'm excited to see how the series handles such a massive disappointment for Leslie. And I can't wait to see her continue proving everyone in Pawnee - with the exception of her friends - wrong.

Tags: Parks and Recreation, Reviews