I can't have been the only person to let out a tiny squeal when Almost Human Season 1 Episode 4 featured a villain known as The Bishop, can I?
No, I don't think I was alone in my joy at what could have been an homage to Fringe what with The Bishop needing a scientist and Walter having been a scientist. And let's go ahead and tie in a little Breaking Bad while we're at it with Walters Bishop and White and cooking drugs.
It's like six degrees of TV drama up in here!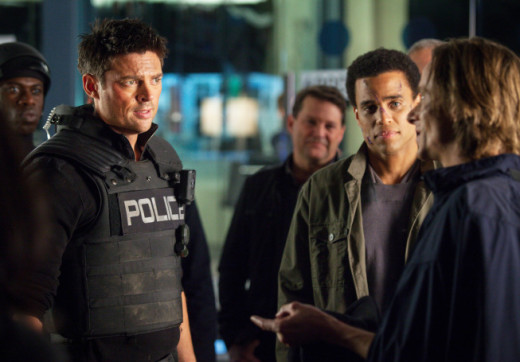 Almost Human is off to a weird start. Season 1 Episode 1 indicated that the show would be a bit serial in nature. There was an interesting history for Kennex and his missing memories. There was the opportunity to see him develop a relationship with both Dorian and Stahl.
What we've seen so far has definitely been a straight procedural, and while it's been interesting, I keep hoping to pick up the storylines brought up in the pilot.  
J.H. Wyman took to Twitter and explained that the first 7 or 8 episodes are airing out of their original order and suddenly things make a little more sense, at least as much as airing episodes out of order can make sense, that is. Because on the whole, making that decision doesn't make sense in this case.
Airing the first 7 or 8 episodes out of order breaks up the character development and it certainly explains just how John and Dorian developed such a good working relationship so quickly. While the fact that their partnership would progress so rapidly is believable after the pilot's closing scene, what we'll have to see now is their awkward beginnings after seeing the relationship which has already been established.
That's clear as mud, right? Right. Kind of like what happens when episodes are aired out of order.
Anyway. Enough ranting about that.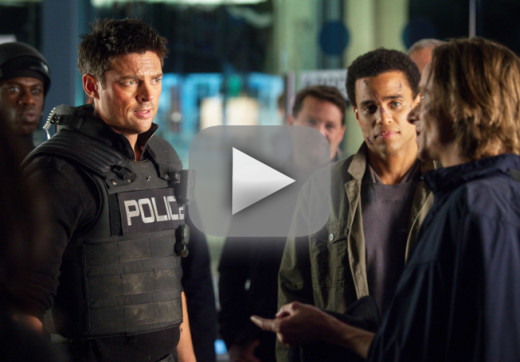 Overall, tonight was another solid performance for this fledgling buddy cop drama. It gave Rudy, who is two parts mad scientist, one part heart, and one part loner, a chance to shine as a member of the team by going undercover as a drug cook for a dealer known as The Bishop.
The Bishop turned out to be a captain on the police force, the leader of the narcotics division. Cooper, Kennex' friend who was murdered, was attempting to infiltrate The Bishop's network when he was killed for being a cop. When others were quick to label Cooper dirty, Kennex came to his late friend's honor determined to clear the man's good name.
To do that, he needed a drug cook. Enter Rudy, who was eager to help. Though I'm not sure exactly how The Bishop didn't know Rudy was undercover since Rudy works for the police and so did The Bishop, but I'm probably not supposed to be thinking that hard about it.
Paul's advice that Rudy keep his lies close to the truth worked in Rudy's favor and he was able to pass himself off as a legitimate criminal with a simple yet impassioned speech about doing what he loves.
It's about passion. Passion in your work. It's science, yes, but it's also an art. Ingredients are ingredients, but if you go quiet and you just listen, they start to talk back to you and they tell you what they need and the whole becomes greater than the sum of the parts...if you approach your work with reverence and pour your very soul into it, it starts to get a life of its own, and dare I say, you can grow very fond of that creation.

Rudy
And that line is what makes Rudy a character we can root for. It was vulnerable and honest and beautiful. It was clear that he was talking about the machines and not drugs and it's his relationship to the machines and being the one who can see them for more than just walking, talking hunks of wiring and microchips that makes him interesting, particularly as it comes to Dorian's desire to be a real boy.

To Rudy, the machines, particularly those which he has created, are more than just machines, and because of that Dorian feels a special kinship to the scientist. 

For a minute I thought he might not make it out of the warehouse and I was rather sad and I found myself rooting for Dorian in his fight against the other android.

I care about these characters. That's how I know this show has me hooked even if the storytelling is a bit clunky and some of the acting is a bit stilted right now. I'm hopeful that once episodes go back to airing in their original order, things will look up for Almost Human and it will be able to soar a little bit higher.

What did you think of Almost Human Season 1 Episode 4? Are you irritated or relieved to learn that the episodes are airing out of their original order? Which character do you care about the most so far and why?

Miranda Wicker is a Staff Writer for TV Fanatic. Follow her on Twitter.

Tags: Almost Human, Reviews