Revenge Spoilers: Gabriel Mann and Barry Sloane on Going "Off The Rails"
by Jim Halterman at . Updated at . Comments
Ready for a wedding with a bang?
We already know from Revenge Season 3 Episode 1 that Emily Thorne is going to be shot while wearing her wedding dress but we're finally going to get closer to that moment in the next two episodes and also find out who holds the gun.
On Sunday's Revenge Season 3 Episode 9, Emily is working on her final takedown but will the Graysons finally be caught or will they escape her clutches once again? How will Nolan and Emily continue if the Grayson takedown succeeds? Can Emily and Aiden live happily ever after?
I stopped by the Revenge on-location set earlier this week and grabbed some time with stars Gabriel Mann (Nolan) and Barry Sloane (Aiden) to get a preview into these next two episodes and just how much Emily's wedding will affect everyone in the Hamptons.
Here's what I found out: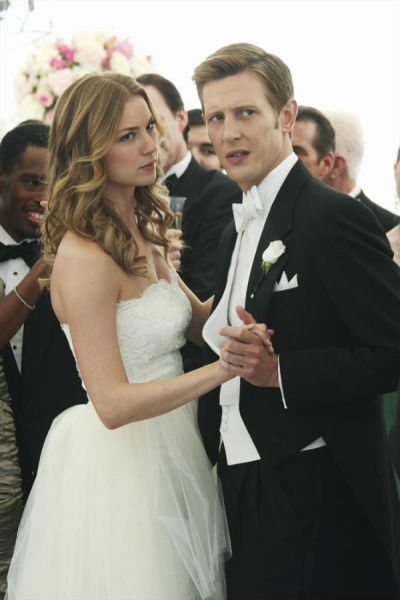 End of Emily/Nolan? The twosome has come very far together in Emily's plan. What happens if they finally pull it off? "On the one hand, Nolan's incredibly invested in helping Emily see her plan to its fruition," Mann explained. "On the other hand, there's a trail of bodies in our wake and shattered lives and reputations and ruined people and I think most importantly it really potentially would signify the end of their relationship in a certain way because as far as Emily is concerned when and if this plan kind of goes off without a hitch, she's running for the hills and I don't' think she's taking Nolan with her." The actor said there are a few scenes coming where the partners in crime address what it would look like to have to say goodbye to each other.
Is Victorien really over? In Revenge Season 3 Episode 8 Victoria kicked Aiden to the curb, which could screw up Emily's master plan. Can Aiden get the Ice Queen back on his side? "I think we're so close to making this plan work," Sloane said. The actor added that his alter ego is "definitely on board with what [Emily] wants to do and it's a case of it's a countdown to the completion which is obviously going to go well and they're going to run off to the sunset together." In true Revenge fashion, watch for big obstacles to fall in their way.
More Bromance? I know I've missed seeing those awesome Nolan and Jack (Nick Wechsler) friend moments where they talk over their various dramas. How does Mann feel? "I think that's one of the cornerstones of the show is this original relationship between Jack and Nolan," Mann told me. "That's a relationship that will continue to progress in a lot of different ways because I think now especially that Jack is kind of looped on the truth of what's happening and the truth of our characters and mostly of Emily's identity and my involvement with Emily, there's an opportunity for a deeper kind of intimacy and truth in that friendship."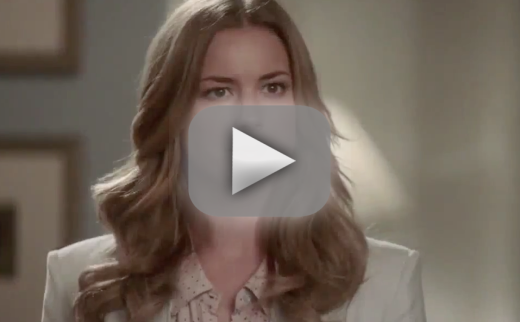 Hello, Lydia! Did anyone else gasp when Amber Valletta proved she didn't die at the end of that Season 1 plane crash? Sloane said of Lydia's return, "I watched season one but wasn't part of it so for me to work with Amber and have her come in was great. She brings that great dynamic and [she] and Madeleine together are fantastic. [She] and Emily together are fantastic." The actor also teased that there's a "huge moment" coming in this week's episode involving Aiden.

The Odd Couple: Aiden has been shacking up with Nolan, which Mann joked could be dubbed 'the Naiden Chronicles' but added, "it's such a pleasure to mix up these characters in different ways and their dynamics and see what happens when you put them together in potentially outrageous preposterous situations."

Love Conquers All:  Sloane said that the writers made a point of showing a different side of Emily and Aiden this year. Speaking of last season, the actor said, "We were always seeing Emily and Aiden at the end of a tough day. We never just see them kind of together. There was obviously always an incredibly deep bond between the two of them and they just explored that a little more this year and let the viewers see them happy a little bit." While he couldn't say what the future holds, are any relationships on Revenge ever smooth sailing?

Off The Rails: Mann and Sloane both showed excitement with the next two episodes and Mann, for one, said of these two and beyond, "things go so off the rails very, very quickly." Mann added about the show's third season in general, "I think for me it was this show that I really came to love being involved with and getting a chance to play with these incredibly…you want to say over the top situations and I think they are but obviously as actors we continue try and find as many bass notes and as much reality in this as we can…it's been a really, really fun year for all of us."

Revenge Season 3 airs Sundays at 9/8c on ABC with mid-season finale airing December 15.

Jim Halterman is the West Coast Editor of TV Fanatic and the owner of JimHalterman.com. Follow him on Twitter.

Tags: Revenge, Spoilers, Interviews, Gabriel Mann