By now, you've read the many love letters that have been out there on the current season of The Good Wife. And with tonight's The Good Wife Season 5 Episode 10, which happens to be the show's 100th installment, we've come up with 11 reasons why this show is better than ever and not to be missed. 
1. Julianna Margulies​: While the show has become one of the best ensemble dramas on the air, Margulies continues to show us the array of sides to Alicia Florrick. From sexual being to sharp lawyer to concerned mother, Margulies never lets us forget that Alicia is as human as the rest of us. Even her more confident, biting-at-times demeanor this season hasn't taken us away from that. 
2. Writing/Directing: The Good Wife has never fallen back on tried and true formula in how the characters speak and how every scene is shot. Every episode feels fresh and new and we're constantly seeing new sides of people and story in unexpected places. The quick flashes back to when Alicia and Will were deep in their affair, for example, never come off schmaltzy or as merely a story device.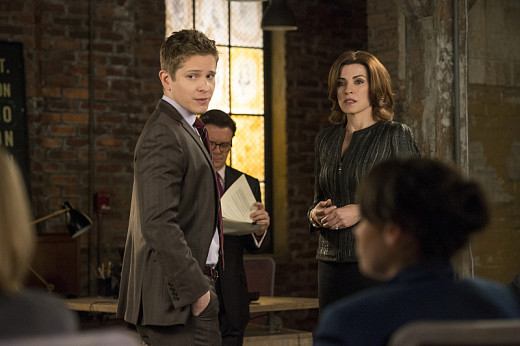 3. Best. Guest. Stars. Ever. Whether they're here for one episode or pop in and out, no show uses guests better. Case in point, John Noble's character was killed in his episode last year but he was so good they found a way to bring his Matthew Ashbaugh character back. In tonight's episode, we'll also see return appearances by Mike Colter, Stockard Channing and Mary Beth Peil. And, for the record, any time Carrie Preston appears as Elsbeth Tasciani, we all fangirl out a little inside.

4. New Characters: On the flipside, no show brings in new characters seamlessly that fit so well. Jason O'Mara is a big part of tonight's episode and, despite his smarminess, he fits right in. And while I can't say Melissa George is fitting in perfectly in the world, she does prove to be a fun foil for Eli Gold.  

5. Layers O' Love: The fact that Alicia and Will (Josh Charles) are not together doesn't mean we should forget and the show continues to subtly - and not so subtly - remind us of that their love is running strong just beneath the surface. Why is Will dating...um....what's her name? (All due respect, her name is Isabel, played by Hannah Sorenson)  And why did Alicia make the seemingly sudden move to leave Lockhart/Gardner? To avoid their undying feelings for each other. Duh. 

6. Florrick/Agos v. Lockhart/Gardner: Who knew battling law firms could be so delicious? Let's hope there's no end in sight any time soon.

7. Nathan Lane. Anyone else think that adding Lane to any scene or story makes it better? Watch the nuances that Lane brings to his role of Clarke Hayden in scenes in both at the Florrick/Agos offices and the courtroom.  

8. Walicia? Palicia? : In the early seasons of the show, Chris Noth's Peter was the pretty much the bad husband to the good wife but over the last season or two the writers miraculously made us like him again and, while rooting for Alicia and Will, also root for Alicia and Peter. What other show is smart enough to do that?

9. Kalinda's Love Life: After the misstep of last season's ex-husband story (which the show disposed of as quickly as possible), Kalinda hasn't had much of a love life that we know of -- until tonight.  

10. The Florrick Children: Both Graham Phillips (Zach) and Makenzie Vega (Grace) have proven over and over that they can hold their own in the acting game with the seasoned pros around them. Their characters, however, are just as compelling as the work drama whether Zach is playing protective older brother  or Grace, much to her mother's horror, grows into her own as a young woman. The series regularly weaves them into the episodes without any sign of contrived mechanisms.

11. Comedy: Yes, The Good Wife handles comedy much as it handles drama - perfectly. One of the best spit-takes ever punctuates tonight's episode. (I won't tell you who but...bravo!)

The Good Wife airs Sundays at 9 p.m. on CBS. 

Jim Halterman is the West Coast Editor of TV Fanatic and the owner of JimHalterman.com. Follow him on Twitter.

Tags: The Good Wife