There are key moments in any relationship that you will always remember:
The first kiss, the first date, the first "I Love You," and, of course, the first time you find out your dumpster-dwelling boyfriend is rich. 
Okay, so maybe Max is the only one who has to deal with that last one. But, to her credit, she processed through a lot of emotions in 2 Broke Girls Season 3 Episode 15, even going so far as saying she loved Deke. So can you really blame her for being taken back by the learning that the guy comes from money?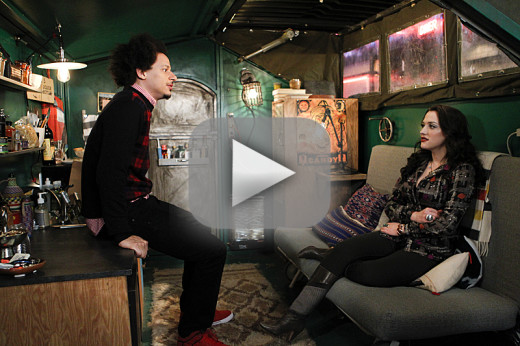 Actually, it was interesting to see how Caroline and Max handled Deke's financial status. It appears that after more than 60 episodes of struggling for cash, Caroline was more comfortable with the idea of Deke being poor than Max was when she learned of his background.

Both girls clearly have their comfort bubbles. But if Caroline can learn to be content, even happy being poor, can Max figure out how to be satisfied with Deke being rich? 

Of course, the bigger news of the night was Max's willingness to say the L-word to Deke. She's always been a bit commitment-phobic, so it coming so easily to her with Deke should show how much she cares about him. 

Granted, there has to be a story behind Deke deciding to live in a dumpster like a hobo. I hate giving up premium cable channels when money is tight, I can't imagine what would drive a rich kid to live in a dumpster. Let's hope we get a chance to find out. 

Overall, it was an excellent episode. Hysterically funny in places, touching in others, and the biggest surprise of all, it had a nice moral message, which can be hard to work in with penis jokes. So, I'm giving this episode 4.8 chocolate I Love Yous in honor of Deke and Max sharing their hearts.

Do you think Max and Deke will get past him being rich?

Jim G. is a TV Fanatic Staff Writer. Follow him on Twitter.

Tags: 2 Broke Girls, Reviews
Want more 2 Broke Girls?
Sign up for our daily newsletter and receive the latest tv news delivered to your inbox for free!
More From TV Fanatic
Scott decides to get tough on Teen Wolf after rescuing his Beta by declaring he won't sit back and watch more deaths. Find out what else went down in the review!
Heather and Tamra consider making peace with Shannon on The Real Housewives of Orange County. See what went down in our TV Fanatic review!
On Murder in the First, the trial of Erich Blunt reaches its conclusion. But what is the verdict? Find out when you read the review.
Andi Dorfman chooses between Nick Viall and Josh Murray. Find out who she chose now on our The Bachelorette review!
---