Sex strikes: myth or fact? Flight of fancy, like the hunt for Bigfoot? Or dead-serious real-life issue, like the hunt for Bigfoot?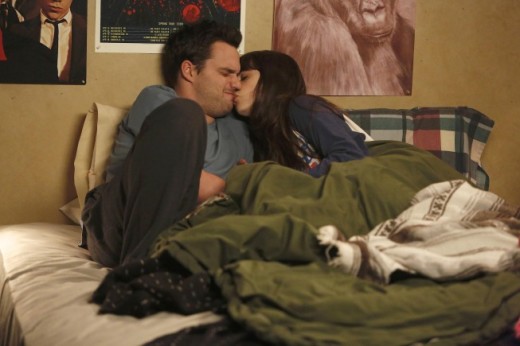 Regardless of your stance on sex strikes OR Bigfoot, you have to admit that both are an easy recipe for fun, palatable TV. And while I am still eager to see a New Girl episode where the gang hunts the majestic Sasquatch, I was happy to make due with New Girl Season 3 Episode 12, which used the modern-classic sex strike trope to breathe life back into this show.
While I'm not going to pronounce New Girl Season 3 completely rehabilitated based solely on this episode, there were - in yet ANOTHER parallel to the hunt for Bigfoot - a lot of encouraging clues.
Jess and Nick's sex strike goofery harkened back to New Girl Season 2 Episode 19 in its quirky, silly sex jokes, delightful New Girl quotes and a vibe that recalled classic buddy-coms like Friends and That '70s Show (the latter being the purveyors of my personal favorite sex strike episode ).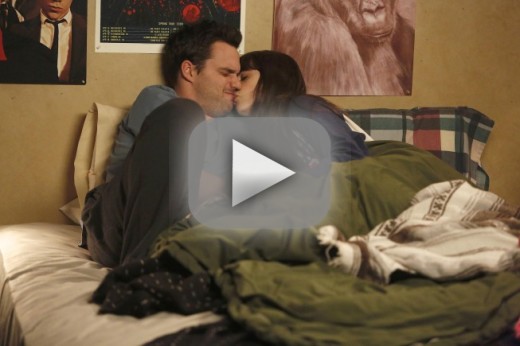 One solid and unique development for the episode was the development and refinement of Jess's contradictions.

Since New Girl Season 1 Episode 1, we've been told over and over that Jess is an annoying dork who we just can't help but love... but for me at least, she's slipped all over the map, from the pretty cool lady who just wore some questionable dresses in New Girl Season 2, to the just straight-up annoying dork of New Girl Season 1.

This was the first episode that seemed to really nail the multitudes Jess contains: she's bossy but adorable; emotionally needy but loving; dorky but horny. Just like all of us! (or at least, just like all of me.)

The only really disappointing element of this episode was Schmidt. After a season that has been aching from lack of the S-Man - -what, was Max Greenfield shooting a movie or something (oh, wait, Max Greenfield was totally shooting a movie or something) - Schmidt's subplot was weak, and his nemesis Ed a watered-down retread of Chevy Chase's demented senior par excellence, Pierce Hawthorne, from Community.

I hope the show can find a balance and that Schmidt doesn't have to sink so that Coach may rise.

And though his appearance was brief, Winston was, as he has been throughout New Girl Season 3, the highlight for me; his Training Day imitations made me wish for a webisode just of Winston doing Training Day imitations. Do it now, Fox, before Bigfoot beats us to it!

Are sex strikes a thing that actually happen in real life?

Tags: New Girl, Reviews