As we met back up with Mindy for the first time in the new year, we saw her and Cliff experiencing a number of firsts in their relationship.
Mindy, of course, referenced the traditional moments, like the first kiss and the first overnight, but in typical fashion, she also noted some not so romantic firsts... like going through your partner's medicine cabinet and how perilous satin sheets can be.
Mindy quickly went from doe eyed to bug eyed on The Mindy Project Season 2 Episode 12 when Cliff suggested they spend a weekend away skiing. She was scared a dip in the hot tub would turn to a hot mess once Cliff saw her body.
Mindy: Guys over the holiday I had five hams and a goose. Like, I am a wolf in a children's story. And guess what? Cliff's gonna have to see me in my bathing suit soon.
Danny: Just get one with a skirt, like the moms at the pool.
Despite taking a hilarious slap to the face, Danny ended up agreeing to train Mindy after her nightmare session with Morgan. Mindy's reaction to Danny's gym was great as she noted the lack of elliptical machines and TVs playing Bravo.
After the Mickey Goldmill approach failed, Danny struggled to motivate his friend, who cares more about red carpet dresses and celebrity murder movies than squats and pushups. 
If Mindy wanted to avoid working out, she shouldn't have chosen a trainer who knows her so well. Danny showed he's flipped through an US Weekly or two in his day, though, when he found a way to finally make Mindy sweat. Things really heated up though after Mindy walked into the steam room naked.
As things with Cliff develop, I was wondering how the chemistry between Danny and Mindy would factor into the mix.
Well, with the drop of that towel, we saw a renewed level of awkwardness form between the two doctors. Mindy's slip and fall created enough distance for the moment, but Danny still couldn't help paying her a very sincere and sweet compliment.
You're a woman and that's good. Look like a woman.
Peter also saw a new side to one of his coworkers when he caught Jeremy faking sick so he could stay home and play doctor with a couple of naughty nurses.
Jeremy certainly deserved some fun after finally shedding the weight and it allowed for the funniest episode turned in by Peter Prentice to date. I liked seeing the over confident Peter after he assumed control of the practice, but the scenes where he came unhinged - like when the delivery guy laughed about the glove delivery - were my favorite.
Oh you got jokes? All of a sudden you're the King of Queens?

Peter
Other scenes, like the collective discussion about Tinder and Tamra discussing Sleepy Hollow, were also great moments in what was a great start to 2014.
What did you all think?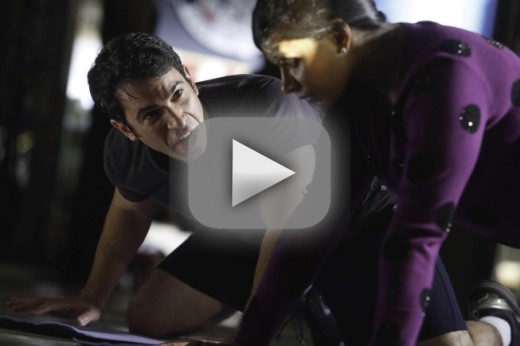 Tags: The Mindy Project, Reviews
Want more The Mindy Project?
Sign up for our daily newsletter and receive the latest tv news delivered to your inbox for free!
More From TV Fanatic
On tonight's The Bridge, Marco is made an offer that he initially refuses. Will he agree to go after Fausto?
Things go from bad to worse for Molly on Extant as she tries to escape the prying eyes of the ISEA but chooses the worst place for safety. Read on for a full review.
Mike is on a war path on Graceland... but is he headed in the right direction? Read our review of "Los Malos" now to find out!
On Suits, Rachel tells Mike about the kiss. Where did it go from there? Find out now!
---