The Big Bang Theory Review: A Train Ride Surprise
by Carla Day at . Updated at . Comments
Oh my golly gosh! I can't believe it actually happened. It did, right? I hope I wasn't dreaming....
Someone acknowledged that Penny drinks a lot and may have a problem! Sure, Leonard said it as a joke, but there was a thread of truth behind it.
Since It's been a long discussed topic on the reviews, I'm glad it was finally brought up.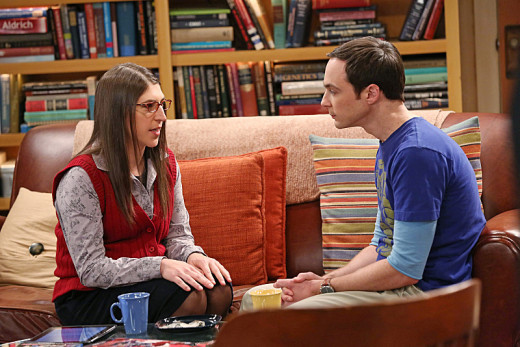 Okay ... that's not really what had my jaw on the ground, but I didn't want the real shocker to spoil anyone in the introduction.
SHELDON KISSED AMY!
It's been a long time coming. Three years! I'm quite impressed with how it finally happened. I feared that their first kiss would feel forced or just not be the right time. The Big Bang Theory writers found the perfect way to make it happen. It felt authentic to the characters, while being epic. 
The Big Bang Theory Season 7 Episode 15 is an episode that will be watched over and over again just to watch Sheldon and Amy's kiss. The best part about the moment wasn't that Sheldon kissed Amy to prove a point, but that once their lips touched Sheldon was overcome by the connection. He was drawn physically towards Amy. His hormones superseded his mind. 
I just made me smile. Even thinking about how it went down is making me smile now. Absolutely loved it!
Amy: I deserve romance, and I didn't know how else to make it happen.
Sheldon: Well, if you want romance, then let's have romance! Oh, look, there's wine. Mmm. Grape juice that burns. Uh, now let's gaze into each other's eyes, hmm? You blinked I win. Let's see. What's next? Oh, kissing's romantic.
Amy: That was nice.
Sheldon: Good.
The kiss was only made better when Sheldon asked Amy to go with him to see the train's engineer. He saved the otherwise disastrous evening with that invitation. Sheldon and Amy's relationship lived to see another day. Will his heart and body win out over his mind? We'll have to keep watching to find out.

Other than those few moments and then when Sheldon returned home and mentioned the kiss to Leonard, the train trip was horrible. I wasn't sure if the episode could be saved, but it was. Sheldon's typical behavior with the other train enthusiast was awful. I would have been perfectly okay with Amy breaking up with him on Valentine's Day.

They were meant to be from their very first meeting!

Poor Howard and Bernadette were just a sideshow. Though, Howard probably doesn't mind since he is getting a huge R2-D2 lego kit when he gets back. They were sweet together. Bernadette's controlling nature fits Howard's demeanor so well. At least Sheldon's behavior gave them an excuse to look at the stars.

Back at home, Leonard and Penny nearly kill Cinnamon. And, Raj gets a woman's number. A vet! I hope we see her again. She seemed to have a good head and someone that would be good for Raj. He deserves to date a "normal" person and have a chance at happiness. Anytime he has someone watch Cinnamon for him it ends up begin a disaster, so a vet for a girlfriend would be perfect!

Check out the best lines in our The Big Bang Theory quotes section. What was your favorite?

Grade Sheldon and Amy's kiss!

Carla Day is a staff writer for TV Fanatic. Follow her on Twitter and on Google+.

Tags: The Big Bang Theory, Reviews