Some of you miss the time when the cases dominated Bones more than the interpersonal relationships, so Bones Season 9 Episode 17 might not have been to your liking.
The introduction of a new intern the Jeffersonian team stole the show - and I hope you were as impressed as I was with his arrival.
Looks like they're saying "Huh" in "The Repo Man in the Septic Tank," doesn't it?
There hasn't been a new intern who has been as much fun as Rudolfo Fuentes in a long time. He was handsome, humorous and full of self confidence -- and all of those thing together impressed the ladies and threw Brennan off her game. 
Brennan was so flustered she assigned him demeaning tasks that Hodgins would have given his eye teeth to do just to try to put Fuentes in his place. Instead, he climbed inside of a septic tank and within seconds announced he had the cause of death of their victim. It was good fun!
Fuentes was the head of forensic anthropology for all of Cuba and defected after the death of his father to get the life his father always dreamed he would have. While that left him somewhat starting over, it didn't diminish his confidence in his abilities or sexual prowess one bit.
Although it wasn't revealed, it seemed as if Fuentes read Brennan correctly and allowed himself to make a mistake to endear himself to her so that she would soften. Until he made an error, Brennan didn't treat Fuentes with any respect whatsoever. Once she felt as though she was in her position of control again, she was willing to listen to what he had to offer.
Brennan: Why are you smiling at me?
Fuentes: You and I. I sense tension. I think soon we'll make love.
His inappropriate comment lead Brennan to tell Booth how she really felt about him and it strengthened their relationship as a result. Whether Fuentes was saying it to get her goat or because he truly meant it in the moment? Who knows. It worked.
The more Brennan learned about him the more she intrigued she was and the more weight his words held. As she and Booth were once again discussing sending Christine to church, the cross around Fuentes' neck when he came from an atheist country threw her.
I believe in the right to believe. That's what this means. We all make our own choices, but we can't make good decisions unless we're exposed to everything, can we.

Fuentes
Those very words changed Brennan's stance on church for Christine. Although she still called it a myth, her willingness to give her daughter the information she needs to make an informed decision is a good one. It's what makes Bones, as a series, pleasant to watch from any aspect.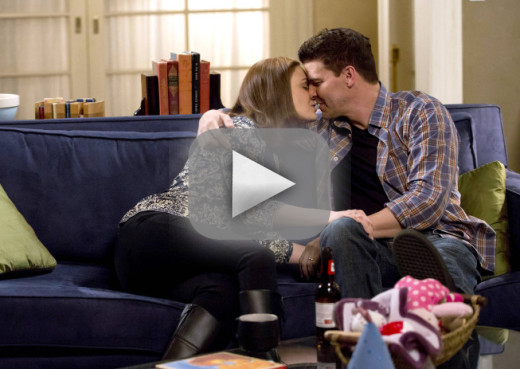 Her caveat was that she wanted to take Chistine to the natural history museum after church each Sunday. If she thought Booth would balk at that compromise, she didn't know her husband as well as she claimed. He immediately launched into his impression of a T-Rex with excitement.

Catch up on all of the latest installments when you watch Bones online.

Are you hoping Fuentes makes more appearances on Bones?

Carissa Pavlica is the managing editor and staff writer for TV Fanatic. Follow her on Twitter and on Google+.

Tags: Bones, Reviews