This week, on How i Met Your Mother Season 9 episode 20, Marshall learns Lily has been hiding a secret.
When Marshall discovered The Captain was somehow involved, he goes to his home to confront him. As they are about to duel, Ted believes he has solved the mystery.
Robin catches up with her mother, who sends Robin into a panic when she shares stories about her own wedding to Robin's dad. Lily calls Barney to tell him to get back to the hotel, only to realize she is busted when Barney tells her where they are.
It turns out Lily is pregnant and Marshall tells her they are going to live in Italy after all. Barney meets Robin's mother for the first time and gives her a huge hug.
The episode ends in Italy a year later, where we see Marshall are Lily arguing over Funyons in Italian. Lily's dad pushes a stroller into the scene and we meet Daisy Eriksen for the first time. Hooray!
Watch How I Met Your Mother online now for a lot more: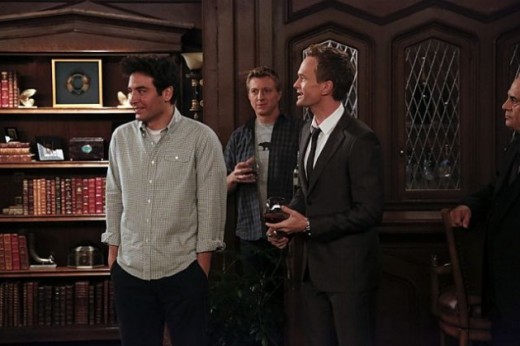 Tags: How I Met Your Mother
Want more How I Met Your Mother?
Sign up for our daily newsletter and receive the latest tv news delivered to your inbox for free!
More From TV Fanatic
Happy Father's Day! In honor of this occasion, we countdown TV's top dads.
The 2013-2014 season has come to an end. We hand out a number of finale awards in this fun gallery.
Our round table team talks shocking twists, disappointments and favorite moments from the How I Met Your Mother series finale. Jump in and discuss now!
What if How I Met Your Mother had ended this way? Would it have been more satisfying?
---