It's official: more people than ever before wanted an invitation to The Purple Wedding.
Illegally, that is.
On the heels of the Internet going crazy for Game of Thrones Season 4 Episode 2, piracy-tracking blog TorrentFreak reports that approximately 1.5 million people tried to download the installment on Monday, with nearly 200,000 users sharing a single copy.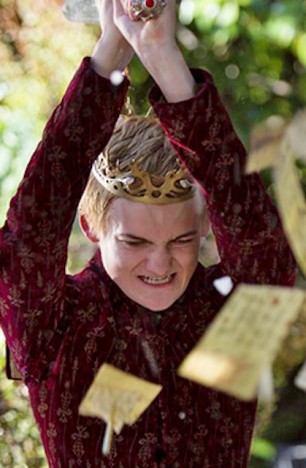 "These are unprecedented numbers – never before have 193,418 people shared a single file simultaneously," the blog wrote. "The previous record was set last year, when the season finale of Game of Thrones had 171,572 people sharing on a single tracker."
On HBO itself, Sunday's episode totaled 8 million viewers across three replays, down a bit from the Game of Thrones Season 4 premiere a week earlier.
Still in shock over Joffrey's death?
Relive his final moments here:
Joffrey kicks back and takes in a wedding on the Game of Thrones episode "The Lion and the Rose." No reason for him to be worried, right?