When it comes to sex, most people would probably rather not have their parents involved in any sort of way. Parents are assumed to only have had sex as many times as they've had children, and conversations about it are usually out of the question.
And watching Black Swan with your parents? You might want to rethink that one.
So it was no surprise that Legit Season 2 Episode 8 had Walter walking in on Billy having sex, and Jim catching Billy and Steve's mother having sex with another man. Maybe lock a door or close the shades?
Or maybe Walter and his wife just needed to be reunited again.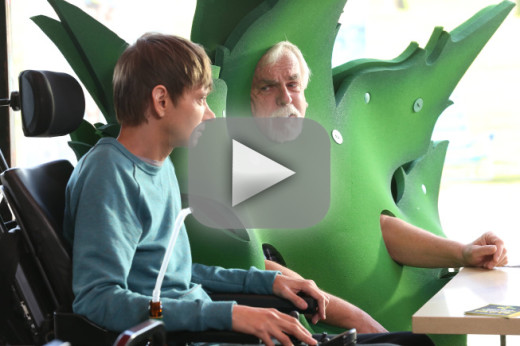 The chatty father became the ultimate focal point of the hour as the trio tried to bring him back into the fold rather than have him homeless and dressed as a pot leaf.

A goofy premise, but endearing just the same, it was nice seeing Jim once again take the lead on trying to do something nice for someone else.

The conversations around the fire were entertaining and watching Steve freak out about his mother with another man was funny. The Sophie's choice of Billy choosing video games or sex was a humorous dilemma. I even laughed at Billy picking the video games and breaking up with the sex addict.

But I wasn't really surprised by the antics involved or in the eventual happy ending of Walter finding his way home. I hope that doesn't necessarily mean Walter is out of the picture with the trio, but it was a positive ending for his character after his time on Jim's couch.

I maintain that it's entertaining to see the cast having fun and enjoying their time portraying the characters, and I often wonder how much is scripted. I even wonder how many times they have to film a scene such as jumping on Walter in his pot leaf costume. Clearly, everyone involved seems to be having a good time.

That makes things good for the show even if this particular episode was pretty middle-of-the-road. Maybe I'm still recalling the well-done Legit Season 2 Episode 7, but this one wasn't one I'd be ready to see again anytime soon. You know, much like Steve probably wouldn't want to see his mother naked again either.

Have you ever had a job where you have to wear a costume?

Sean McKenna is a TV Fanatic Staff Writer. Follow him on Twitter.

Tags: Legit, Reviews