On Modern Family this week, Gloria organized a family portrait - but the day didn't go off without a few snags.
Modern Family Season 5 Episode 21 was filled with lies, bickering and a bruised ego.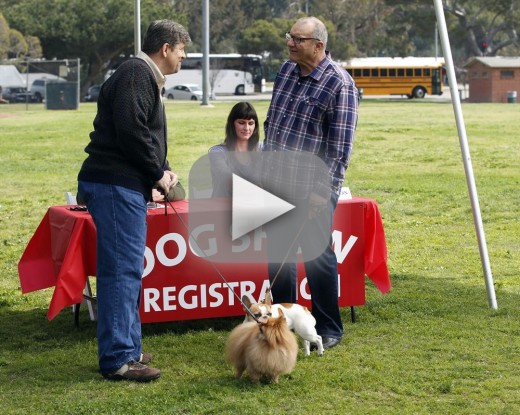 Everybody knows that Phil is a totally devoted, loving and loyal husband. He's also very sentimental. So when the local record store calls to say that they have a certain album available, he runs out as fast as he can.
This record? The one that was playing when he lost his virginity in 1988. He feels so guilty when he goes to listen to it that he makes a production over destroying it and throwing it out. During that that, he misses the washing machine repair guy.
Scared to tell Claire the truth, Phil comes up with an elaborate lie that eats away at him and causes him to fall asleep from the stress. Luckily, Alex is doing a paper on narcolepsy and uses this to her advantage. 
When Phil finally comes clean, he finds out that Claire lost her wedding ring months ago and never told Phil. Yet she barely gave it a second thought.
Phil: You know how you can treasure special moments in your past that in no way diminish special moments in your present?
Claire: Yes sweetheart it's called having a memory.
It was a little weird that Claire barely seemed worried about the ring, yet she threw a huge fit over Cam not wanting to use her hand-me-downs. 

You have to love Cam's elaborate way of thinking and his idea to stage a photoshoot of Lily in a pair of Alex's old pajamas. Claire, being the little detective she is, immediately noticed the flaws in the picture and called him out.

Bottom line, everyone has different tastes. Lily's lines were probably the best part of their scenes in this episode.

Poor Mitchell realized that he's somehow become the invisible man. That pep talk with Jay was amazing. It sounded like Jay was indulging in some secret sexual park behavior, but Mitchell knew that couldn't be it. I was laughing while he stood there holding his breath until Jay said "dog show." 

Speaking of, I just love little Stella!

So should Phil have felt as guilty as he did? I'd say no. I agree with Claire that we all have memories.

Vote below and sound off in the comments!

Leigh Raines is a TV Fanatic Staff Writer. Follow her on Twitter.

Tags: Modern Family, Reviews
Want more Modern Family?
Sign up for our daily newsletter and receive the latest tv news delivered to your inbox for free!
More From TV Fanatic
On tonight's Gang Related, Ryan was forced to make a difficult decision. Which side did he chose?
On the latest episode of Satisfaction, Neil learns an important lesson about being honest with himself from Adriana while Grace struggles on her new job. Read on for analysis.
On Rookie Blue, Oliver turns down extending his contract as Acting Staff Sergeant until Duncan's dismissal hearing turns unpredictable. Read on for more.
On tonight's The Bridge, Marco is made an offer that he initially refuses. Will he agree to go after Fausto?
---